How a Food Journal Helps You Lose Weight
Want to Lose Weight? Get a Food Journal and Bring Your Own Lunch
If you want to lose weight, there are a few fail-safe strategies to employ, a new study says — track your food, don't skip meals, and bring your lunch to work.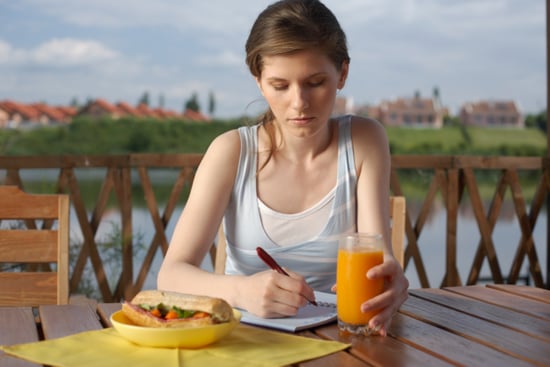 The study, from the Journal of the Academy of Nutrition and Dietetics, surveyed 123 women and found that those who were the most successful at losing weight monitored their food intake by keeping a food journal. They also didn't skip meals, but they did skip out on going to a restaurant with their co-workers at lunch.
The women who kept a food journal ended up losing six more pounds than those who didn't track their food, while women who skipped meals ended up losing eight fewer pounds than those who kept regular eating schedules. Women who ate lunch out instead of at work lost five fewer pounds, since they were less likely to be able to control portion sizes when eating out instead of brown-bagging it at lunch.
All of these findings highlight the importance of sticking to a plan and being honest with yourself about portions and calories if you're trying to lose weight. Keeping a food journal, eating regularly, and limiting the number of times you eat out during the week are already weight-loss rules that you know work. Read about more scientifically proven weight-loss strategies, and let us know if you already practice these!