How to Freeze Cooked Whole Grains
Save Money, Time, and Calories! Freeze Your Grains
I am all for anything that makes healthy eating a little easier, so when I kept seeing those packages of frozen cooked whole grains at health food stores and Trader Joe's, the idea seemed pretty awesome. They take minutes to prepare, and since you're not cooking up a huge pot, they also help keep portions in check. But they're pricey — $4-$6 for a small package seems a little insane. I thought, "I can make these!"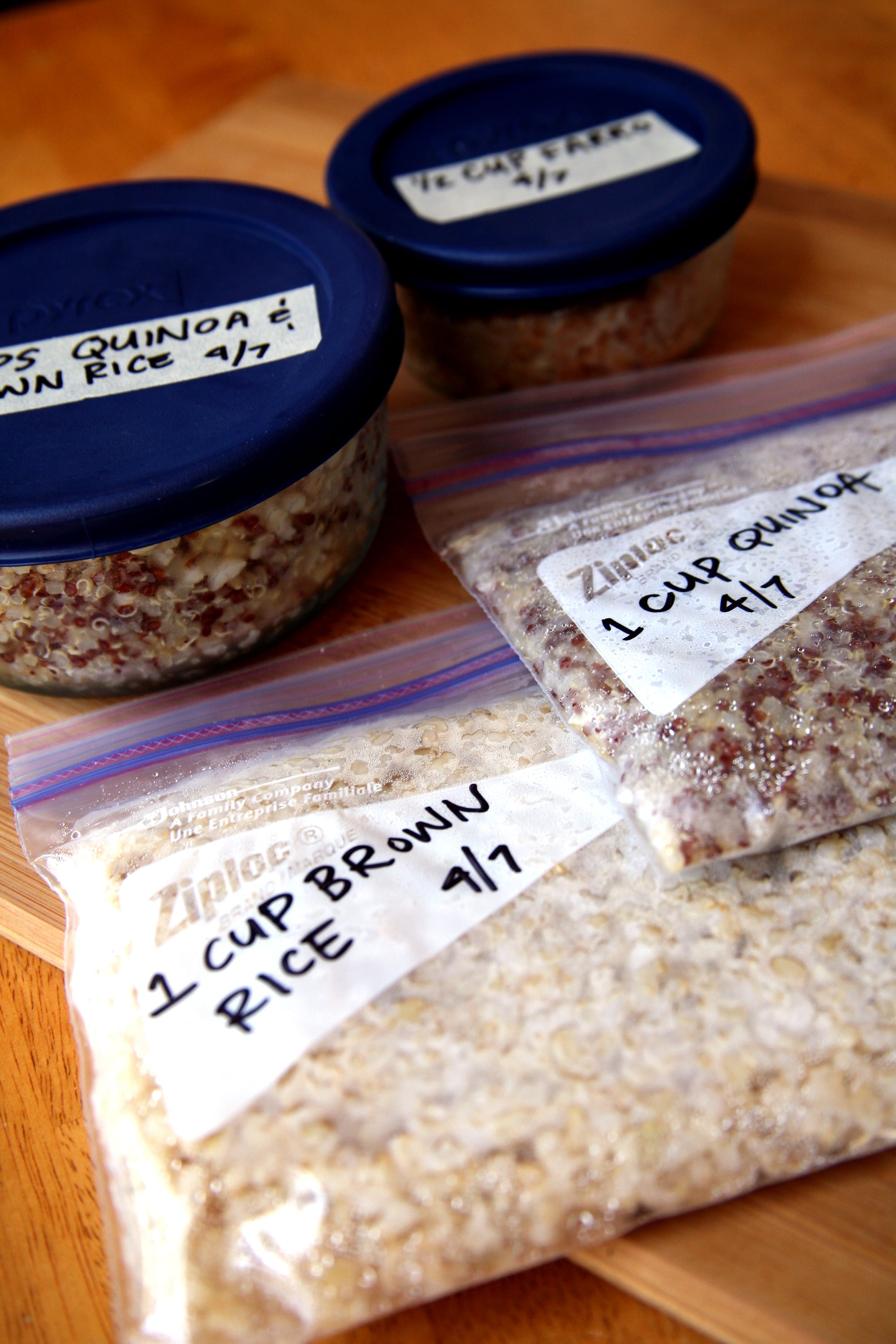 It's a cinch to DIY your own freezer bags of cooked grains, and because you're in charge, you decide what types of grains and how much — you can even mix them such as quinoa with rice. Any whole grains will work whether it's rice, quinoa, farro, millet, or barley. It works best to make a big batch of whole grains at once, but you can also freeze small batches if you have them left over from dinner. Cook them plain, in broth, or flavored with fresh herbs; use this handy guide for cooking almost any grain. Once they're cooked, allow them to cool completely. Measure them out in half-cup, one-cup, or two-cup servings, label the bags, and freeze them flat to save room (and to help them cook faster).
When you're ready to eat your grains, remove the bag or glass container from the freezer. Pour the contents into a bowl to microwave, or reheat in a small pot on the stove top. Or add your grains to hot pots of soup or to sauté pans when cooking meals. Or place the frozen bag of grains in your lunchbox before heading out the door, and it not only serves as an ice pack, but your grains will also be thawed by lunchtime. They'll make meals and side dishes in minutes — perfect for hot breakfasts or stir-fries, mixed into your bowl of greens, layered in your lunchtime mason jar salads. You can even reuse those plastic freezer bags — just rinse and air-dry.
For reference, here are the calorie counts of half-cup servings of cooked grains: