How to Freshen Up at the Office After Working Out
Get a Shower Fresh Feel Postworkout, Sans Shower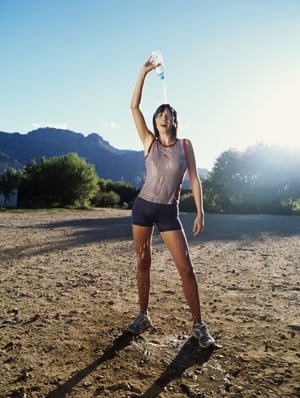 My bike ride to work today was uncomfortably hot, and since there aren't any showers in my office, I was left feeling a sweaty mess. The same goes for my friend who works down the street and runs to work at least three times a week. But, between the two of us, we've collected a few tips that help us feel shower fresh before getting back to the office.
Bring an extra change of clothes. Whenever I ride my bike to work, I always bring an extra shirt with me in case I get sweaty. That way when I get to the office I can change into something fresh. My friend keeps an extra outfit in her file cabinet that she changes into after working out.
Invest in disposable wipes. For workouts that really leave me wanting a shower before I go back to the office, I use disposable wipes. And think beyond baby wipes. A lot of disposable wipes today not only kill bacteria, but also have a nice scent (or are unscented) and are eco-friendly.
Do your makeup at the office. If you plan on going on a big ride or long run before getting to the office, put your makeup on when you get there. And so you don't have to lug your makeup bag around, keep it simple with some tinted moisturizer, mascara, and a lipstick.
Use dry shampoo. On really hot days my bangs can get kind of grody after riding my bike. In those moments, I use a bit of dry shampoo since there is no water needed. Another trick I've learned is drying my hair under a hands dryer or leaving an inexpensive hair dryer at the office.
Splurge and pay the day use fee at a gym. The added benefit is that you get to use the facilities all day long! The 24 Hour Fitness charges $10/day for use of its facilities, and the YMCA charges even less.