How Fruit Causes Weight Gain
3 Ways Fruit Can Cause Weight Gain
Although many diets suggest limiting fruit intake due to sugar and carb levels, fresh fruit is a low-cal source of antioxidants, vitamins, and fiber. That said, there are still ways that eating fruit can lead to unwanted weight gain. Keep reading to see which ways to avoid eating fruit when looking to lose weight.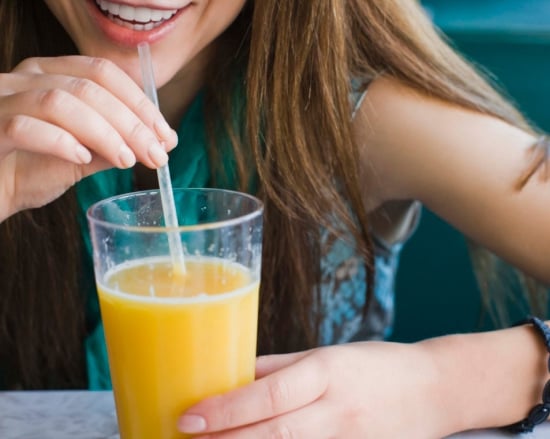 Drinking It
A medium orange contains 62 calories and 3.1 grams of fiber. On the other hand, an eight-ounce glass of OJ will run you 108 calories and offer zero grams of fiber. Juice may be an easy way to take in vitamins and minerals, but it's usually high in calories and lacking in fiber. If you can't forgo that daily cup of juice, at least cut back on sugar by enjoying a blend of fresh-pressed fruit and vegetables.
Keep reading for two more ways eating fruit can lead to weight gain.
Eating It Dried
Raisins, dried apricots, and prunes are definitely a great source of fiber, but the low-water content makes dried fruit a calorically dense food. Since a quarter cup of dried fruit can run over 100 calories, eat it sparingly. Make sure to measure out portion sizes instead of just casually pouring dried cranberries onto a salad.
In Baked Goods
Homemade banana bread was a weekly staple in my house, and my mother always said it was healthy because "it's made with bananas." Don't fool yourself into thinking that just because a dessert contains fruit, it's good for you: it also contains butter, sugar, and refined flour. While it's OK to give yourself the occasional baked-good indulgence, choose a piece of fresh fruit the majority of the time.