How to Get a Better Gym Workout
Use Fellow Gym Rats to Motivate a Better Workout
In a recent Facebook post, I asked readers "What annoys you most about your gym?" and you responded with tons of venting comments about your fellow gym goers. People hog machines, chat loudly on their cell phones, and don't wipe equipment down when they're finished, and their outfits (or lack thereof) are an annoyance as well. I totally hear you. People bother me too, but here are some ways you can use those other gym rats to get a better workout.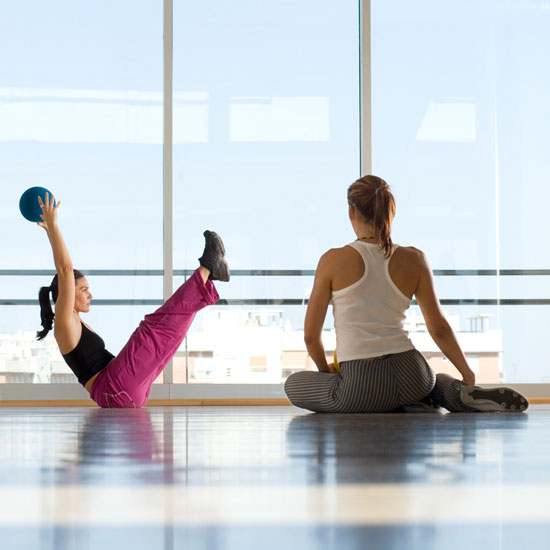 Compete With a Stranger
The next time you're on a treadmill, elliptical, stationary bike, or other cardio machine, use someone else's drive and passion to pep you up. Find someone on a machine that looks like they're working hard and pretend you're racing them. It's great inspiration to feed off their fire, and you'll be surprised at how suddenly you have a burst of energy. I find that I can go longer or faster when I'm mock competing with someone else.
Be a Copy Cat
Bored with your usual strength training routine? Casually check out other people to see how they're targeting their muscles to get ideas for new exercises. You might catch someone using a medicine ball and think, "Hmm, I never thought to hold one while doing abs — brilliant." Mixing up your routine with a few new moves can offer a more effective workout and will also prevent boredom.
Keep reading for more ways to use other people at the gym to get a better workout.
Solicit the Help of the Staff
Don't be shy! Ask for assistance from the knowledgeable staff since it's free. They can give you tips on how to use the machines more effectively or what exercises you can do to target certain muscles, and they can also tell you which classes are the least crowded so you can get more attention from the instructor.
Become Inspired by Killer Bodies
When you see other people working out, you can't help but want to get moving too, especially if those people look terrifically lean and toned. It's perfectly natural to want to look like them, so whether seeing someone with a six-pack pushes you to do an extra set of crunches, or you become motivated to do push-ups after seeing someone's amazing arms, there's nothing wrong with using a little eye candy for some inspiration.