How to Get Long and Lean Muscles
Pilates Experts Tell All: How to Get Long and Lean Muscles
Many people tout Pilates as one of the best ways to get that long and lean look. Even super toned Serena Williams said she was able to change her body by incorporating Pilates into her routine: "I saw results within a week," she's said. Impressive, right? We asked the experts why the practice is so great for sculpting your body. Read on for their tips on how to get long and lean muscles — no matter your workout — with these Pilates principles!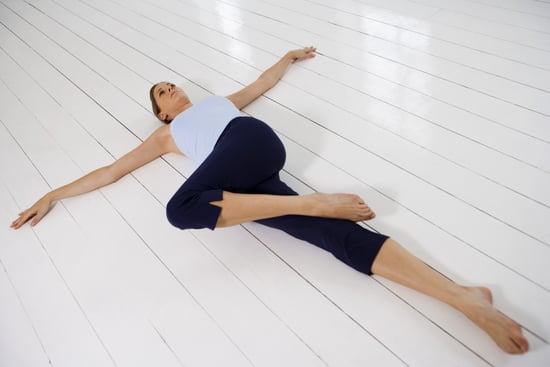 Practice good posture. So many reasons to stand up straight, and being taller (and creating a long and lean look) is one of them. Training your core helps keep you from slouching, and Pilates is one of the best ways to do it. "Pilates forces you to be aligned and pull up [to] re-create a 'perfect-posture' look," says Nicole Stuart, Pilates instructor to celebs like Kate Hudson. Even if you aren't a Pilates student, make sure you keep this in mind by adding powerful core exercises into your normal routine and doing posture-correcting exercise (try these three exercises for a better posture) to train your muscles to keep you standing tall.
Lengthen while you strengthen. Strength training moves that work muscles while they are in eccentric (fully extended) position are an effective way to build muscles from the inside, Nicole says. That can help combat the bulkiness that some people say they experience when they weight train. "In Pilates you stretch the muscle to its full extension, then contract it. The difference with [using] weights is that you are using your muscles against the resistance of that weight you are holding. So while you're lifting the weight you build and expand your muscle. You are adding a layer of muscle and reshaping." Add a few Pilates moves to your strength training routine with these five moves that target all areas of your body.
Find out more muscle-sculpting tips after the break.
Think: full range motions. "Most Pilates sequences involve whole body, multi-joint movements that require full range of motion. This is in contrast to some other forms of exercise that are designed to isolate a single muscle in a short range of motion," says Elizabeth Larkam, a Pilates instructor at YogaWorks. If your muscles are tight from repetitive exercises that don't allow for full extension, make sure to incorporate stretches into your routine that will combat your normal workout. Check out this yoga stretching sequence for runners, for example, to stretch those tight, overworked muscles.
Be precise. "Exquisite attention" to alignment and performance is one important key to reshaping muscles, Elizabeth says. This principle shouldn't just be saved for Pilates class. During any workout, use mirrors to help you with your form, remember to engage your abs, and make sure you're actively thinking about your form — whether you're Downward Dogging or running through the park.
And don't forget, mix strength training with cardio so you're getting the fat-burning, heart-pounding exercise you need to show off those toned muscles!