How to Get More Out of a Personal Trainer Session
3 Ways to Get More Out of Your Personal Trainer
When dropping upwards of $60 on a session with a personal trainer, you to get as much as you can from your time together. Here are three ways to make that happen.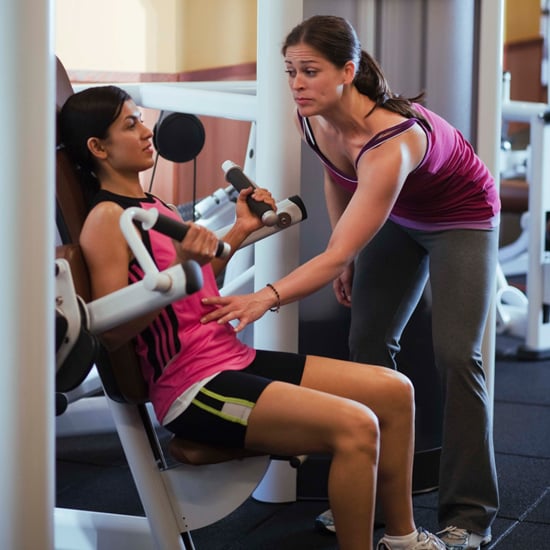 Be honest: Your personal trainer is there to help you, so if you're not completely upfront — about everything — he or she won't be able to help you reach your goals. That means coming clean about your pint-a-night ice cream habit or how you skipped out on hitting the gym all last week. The more he or she knows about you diet-, health-, and exercise-wise, the better apt they are to get you to your goal body.
Be proactive: You could show up for your session and let your trainer lead you through an hour-long session of what they want to do, but it won't necessarily get your arms buff for your maid-of-honor duties this Fall. Remember that you're paying for their services and wisdom, so speak up at the beginning of the session. Be specific about your goals, make requests for what body parts you want to strengthen, tell them you want to be pushed, and don't be afraid to ask questions.
Don't hold back: It can be a little embarrassing, huffing and puffing and getting super sweaty in front of someone you hardly know, but it's the only way to get in shape. Of course it's crucial to work with someone you feel comfortable with, so once you find a good match, give it your all and be open-minded. Don't hesitate to try exercises or equipment that you felt made you look silly or weak in the past, and even if you're nervous or leery about their ideas, try your trainer's suggestions at least once. Make an effort to give 100 percent for the entire session, and it's a surefire way to faster results.