How to Get Organic Produce Delivered to Your Doorstep
Get Fresh, Organic Fruits & Veggies Delivered to Your Doorstep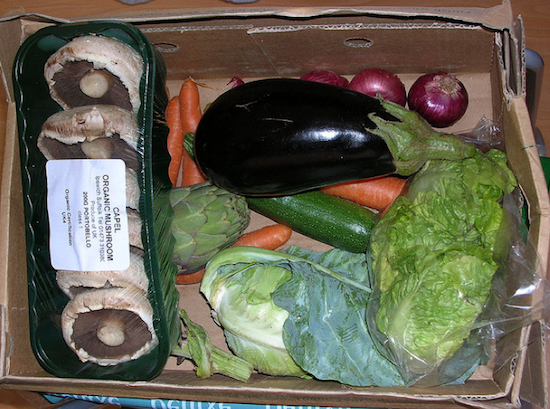 Living in California — the fruit and vegetable capital of the US — I've never really considered ordering produce and having it shipped to my house. Usually I just head to my local farmers market and pick up the veggies that I'll need to sustain me throughout the week. But with hectic schedules, and not making it to the market as often as I'd like, I'm realizing that these organic produce delivery services are a great way to stay stocked with healthy fresh vegetables, while still supporting your local farmers.
Find out more about these delivery services and how to sign up for one in your city!
What's also really neat about these services, is that they create customized boxes with vegetables and fruits that are in season, so you get to try different veggies that you may otherwise wouldn't have purchased at the farmers market or the grocery store — and if you aren't up for vegetable experimentation, you can usually select the varieties of fruits and veggies you prefer. To find a produce delivery services near where you live, Women's Health has created a directory of businesses that are state-specific. These services continue to grow, so you can get produce delivered to you that traveled less than 100 miles, and in some instances, less than 30.
To help get local, organic, produce on your table, there's also Community Supported Agriculture (CSA), where consumers pay farmers directly for a portion of their crop. Similar to the delivery services, you get a box that is filled with fresh produce (some farms deliver it to your doorstep; others have pickup points). Membership is either calculated by the season or on a month-to-month basis, and you usually get to decide which produce you want delivered each week.
If all else fails, there are companies like The Fruit Guys, Diamond Organics, and Gary's Organic that deliver organic produce nationwide. And even if you're not thrilled about your fruits and veggies traveling a distance to get to you, just know that companies like The Fruit Guys source their produce boxes from local farms whenever possible, so you may get vegetables from a farm only an hour away!
Source: Flickr User tristanf