How to Get Pink's Abs
The Secrets to Pink's Rock-Star, Rock-Hard Abs — Revealed!
When it comes your core, it takes more than crunches to achieve flat abs. Turning to celebrity trainer Juliet Kaska, we uncovered a few tricks of the trade to get a rock-solid core like her celebrity clients Pink and Stacy Keibler. Keeping the details in mind, these five tips will elevate your ab workout and have you well on your way to your bikini body — ASAP!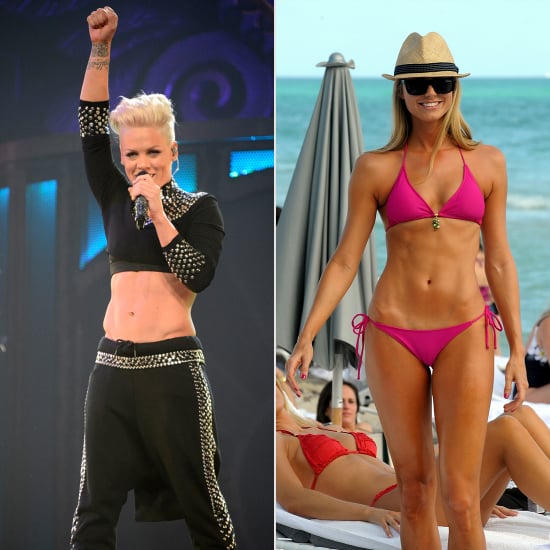 Maximize each series with weights: If you're looking to tone up quickly, adding weights will do the job. Grabbing hand weights — Kaska suggests a pair of five-pound dumbbells — for your ab work will increase the difficulty and challenge your muscles further. For a challenging ab series, try these ab exercises with weights.
The exhale matters: One of the best ways you can make ab exercises more effective is through proper breath. Similar to Pilates, your inhale and exhale will help allow you to control each movement to maximize engagement. The exhale is especially important when using weights because it allows you to fully squeeze your abs, which helps stabilize the entire body.
Adjust exercises with time: As you go through a set or series, your body begins to adapt. Rather than letting it plateau, adjust your speed. As you get more comfortable with the move, Kaska suggests you increase speed "to challenge your core even more." Keep in mind this works well for some exercises — like plank — while for others, slowing your momentum adds an additional challenge.
Control is key: For Kaska, control can't be stressed enough because in many core exercises (especially those with weights) you're working against gravity. To "put up a good fight" in challenging ab moves like the coordination fly you have to work against gravity on the way down. Applying this type of focus to your core work, engages muscles for full control and maximum results.
Watch this video to master all five of Juliet Kaska's abdominal-toning moves!