How to Get Your Partner to Like Running
How I Convinced My Hubby Not to Hate Running
My husband loves his bike and he loves his skis, but he's never been much of a slip-on-your-sneaks-and-go-for-a-run kind of guy. That is until now.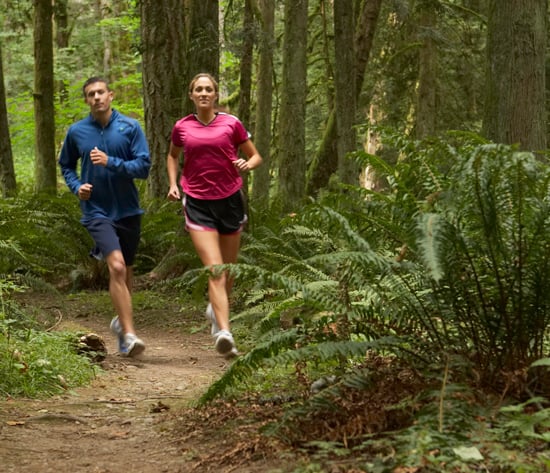 Wooed him with gear: To replace his cotton tube socks, sweatpants, and high school t-shirts, I got him some wicking socks, real running pants, and merino wool shirts. He was amazed that after a run there were no blisters or chafing from his loose pants, and he stayed relatively dry thanks to the wicking shirt.
Added a little friendly competition: It's human nature to be a little competitive, and my hubby is no exception. For a couple bucks, I downloaded the Nike+ GPS app to his iPhone. He loves that it keeps track of his time, distance, pace, and calories burned, and the GPS charts his route. The latest version of the app has the Nike+ Tag feature, which allows you to compete with friends. The object of the game is not to be "It," and in our case, whoever runs the shortest distance becomes "It." The competition has actually motivated both of us to run.
Appealed to his geeky side: The Nike+ GPS app is great, but for more accurate readings and to chart his heart rate, I had to get him a heart rate monitor. He loves wearing a watch while working out since checking his stats gives him a break from the monotony of running. It allows him to see his progress and see how hard he's working right them and there. Technology gets 'em every time.
Musical motivation: Since my hubby is way into music, I got a hold of his iTunes library and surprised him with a running mix of all his favorite songs.
Got him outside: Since the gym was like jail to my husband, I not only got him to ditch the treadmills for the road, but I also brought him into the woods. The softer ground was like butter on his knees and back, and the uneven terrain and the need to dodge tree limbs and roots seemed like he was playing a live video game instead of working out. Bonus — our dog could come too, and it was awesome watching a grown man try to race a goldendoodle.