How to Green Your Running
How to Green Your Running
You might already take your own bags to the grocery store and keep your hot showers short, but there are always new ways to go green. Take running for instance. It's already fairly eco-friendly, but there is always room for improvement. Here are some simple ways to make your sneaker time a bit more green: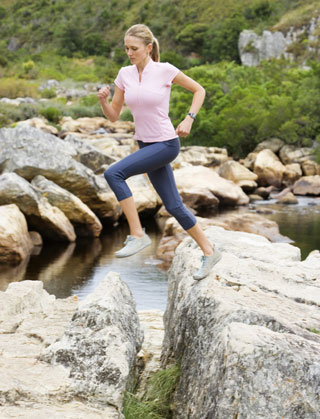 Create eco-friendly racing habits: Many of us like to test our mettle among other runners, which means racing. Instead of traveling to destination races, reduce your carbon footprint by racing closer to home. Use Active.com to find an event close to your zip code. Also, look for races that have been certified green by Council For Responsible Sports; the group uses five measurement to determine if a race is environmentally friendly. These certifications last for two years. Another simple tip is carpool to a race or take public transportation if you can.
Look for green sneakers: I am not saying you should limit your selection of running shoes to the actual color green (although Sandra Bullock is a fan of brightly colored sneaks), but look for brands that are eco-aware. For instance, Brooks uses boxes that are made from 100-percent post-consumer-recycled content, and the running shoe giant's Silence sneaker is made out of all kinds of recycled bits. Another eco-option are shoes by Newton. The company also packages its sneakers in 100-percent post-consumer-recycled material shoeboxes that are made less toxic by being printed with soy ink. All shoes by Newton contain recycled materials from the laces and webbing (100 percent) to the outersole (10 percent).
Fight litter bugs: Become an eco-runner and pick up trash as you log miles. Carry along a bag to stash the trash litterbugs have left behind on your favorite running trail or path. While this might not be feasible for every run, try to do it once a month. Running can be a beautiful thing . . . for the environment.
There are a few more ways to green your running, so keep on reading.
Air-dry your running togs: Skipping the drier for all your fave technical fabrics is an eco one-two punch. Air-drying your clothes decreases energy consumption, and skipping the dryer helps preserve those high-tech fibers in your fave wicking gear, so they last longer. This decreases the amount of gear you need to buy.
Reuse and recycle your sneakers: Old running shoes never really die; they become knock-about-town sneaks, before becoming paint-splattered work shoes. You can recycle your old sneakers with a variety of causes. Nike turns old shoes of any brand into tracks and playgrounds with Nike Grind, and Soles 4 Souls accepts gently worn sneakers and passes them on to needy feet.
Sip evergreen: Keep your hydration up with reusable water bottles. Skip the fancy plastic bottled, single-serving sports drinks, and make your own electrolyte drink with a powdered mix or dissolving tablets like Nuun.
How do you keep your running green?