How to Grill Greens Like Lettuce and Chard
Step Away From the Salad and Serve This Summer Side Instead
You can make any meal healthier by adding fresh vegetables. Whether you start with a salad or sprinkle spinach on your pizza, adding low-calorie, fiber-filled raw veggies to your meal adds essential nutrients like vitamins, protein, calcium, iron, and more into your diet. It's a good practice to include a vegetable with every meal, says healthy chef Lourdes Castro.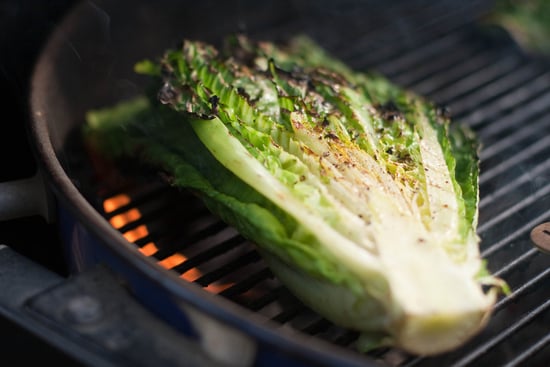 Of course, having veggies all day every day means you need creative ways to keep things interesting. Try Lourdes's favorite way to cook vegetables, which goes hand-in-hand with outdoor cooking season. She likes to use this technique on greens instead of serving up the same old side salad. "It's appealing, the texture is great, and it intensifies the flavor," Lourdes told me at the recent IDEA World Fitness Convention. "[Searing takes] out the water content and what you're left with is the true flavor of the vegetable."
This method works well with greens like lettuce, chard, kale, escarole, or mustard greens, Lourdes suggests. To sear, cut the head or bunch in half or quarters, drizzle the cut sides with extra-virgin olive oil, and season with salt and pepper. Place the cut side on your pan or grill and sear until browned. While you may lose a little bit of water-soluble vitamins on the cooked side, you'll add flavor and texture, she says.