How to Have a Good Yoga Class
Nip Slips and Other Things That Can Ruin a Yoga Class
Just as you can have a bad day at the gym, you can also have a rotten time at the yoga studio. To make sure you always have an awesome experience on your mat, make sure to avoid the following mistakes in your next class.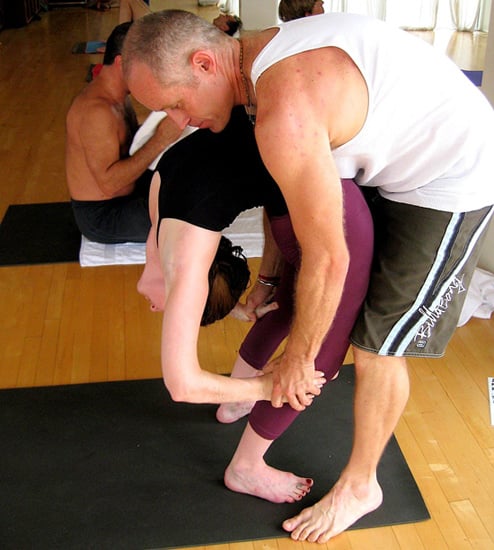 Excuse me, I think your boob fell out of your shirt: No one is paying much attention to your outfit, but it will cause a scene if a too-loose shirt causes a bit of indecent exposure. Make sure your outfit is made of fabric that fits well, offers coverage, and doesn't have annoying tassels, seams, or extra material to get in the way of your movements. Futzing with your outfit when you're trying to focus on your breath (while also trying to hold intricate positions with your body) is sure to get in the way of a blissful experience.
Puddles on your mat: Sweating in a hot yoga class is all part of the fun, but if you sweat too much on your mat, it's a fall waiting to happen. When wet, some mats are slicker than others, so if you tend to sweat a lot, choose a mat with a grippy surface or place a yoga towel on top. Also bring along a hand towel so you can quickly wipe off your face and get back to your practice. Here are a few of our favorite slipless yoga towels.
That burrito you ate for lunch: Eating right before class means your gurgling stomach may be louder than your breath. Avoid pains and bloating by finishing meals at least two hours before heading to the studio, and if you need a pre-workout snack, choose something light, easy to digest, and low in fiber such as a banana. Check out these tips for choosing the right pre-workout snack.
Keep reading to find out other things that can ruin your yoga class.
Ouch, is that supposed to feel good?: Some instructors are all about offering their students adjustments during class to ensure correct alignment or help them get deeper into poses. While gentle adjustments can feel amazing, a little too much pulling or intense pushing can send you into pain and even cause injury. Don't be shy about telling your teacher when to stop. Only you know how adjustments feel, so speak up to avoid injury later!
Yeah, I can do Split, wanna see?: While trying advanced poses can be part of the thrill of practicing yoga, throwing your body into poses you aren't ready for is a surefire way to a pulled muscle. A good instructor will lead you through a sequence of poses to warm up your muscles before suggesting advanced poses, but if they don't, it's up to you to warm up before attempting challenging moves like backbends.
Ugh, traffic: Whether it's work obligations, family responsibilities, or a backup on I-89, running late and rushing to get to that 5:30 class can set you up for anxious feelings while practicing. Leave enough travel time in order to have five to 10 minutes to set up your mat in your favorite spot, hit the ladies room, and still have a few moments to spare for sitting quietly on your mat to clear your mind before class begins.
Source: Flickr User ideowl