How to Have a Healthy Commute
5 Ways to Be Healthy During Your Commute
Don't walk or bike to work? Then you may think that your time spent on your commute is the least healthy part of your day. And while you may spend hours every day sitting, in your car or on the bus and then at your desk all day, you can still find ways to be active and healthy during your travel time.
Whether your trip to work is a short hop on the light rail or a start-and-stop ride down a congested freeway, you can use the empty time to sneak small healthy acts into your daily routine. Here are five things you can do to be healthy during your commute.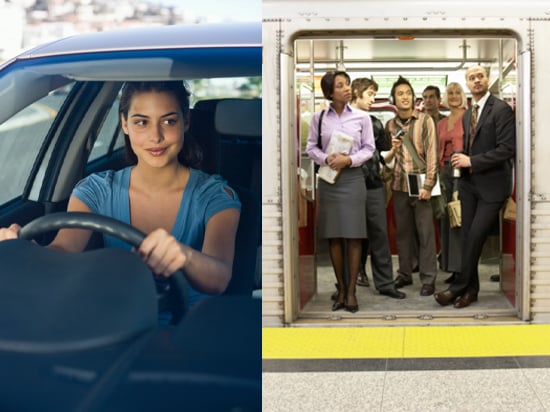 Do your exercises. Yes, you can work out those muscles during your commute without careening off the road or causing fellow passengers to stare. If you're driving, target and tone with steering wheel isometric exercises, ab work, or glute moves. If you're on the subway or bus, get creative with props like the strap hanger, your briefcase, or your bag to (discreetly) work different areas of your body.
Walk the distance. It may be convenient to have a bus stop right outside your apartment or a prime parking spot at work, but if you find that you're not moving as much as you want to, start building time into your commute to walk to the next nearest bus stop or to park further away.
See more of my suggestions after the break.
Don't eat on the run. You may need to eat breakfast in their car because of lack of time, but if that's the case, chances are your breakfast isn't the healthier for it. Even if you don't have time to eat until you're at work, not eating in your car can mean healthier choices for breakfast (after all, who can eat a bowl of granola and yogurt while driving?). Instead, get a BPA-free water bottle and drink up during your commute to get a head start on your water intake for the day.
Take a stand. Spend eight hours a day sitting? Try standing during your commute on public transportation — all that balancing and bracing means an engaged core, glutes, and leg muscles.
Focus on breathing. While you're zoning out on board or stressing out in your car, take some time to remember to breathe. Regular, deep breaths cannot only help you de-stress but also can energize you to get ready for the day.
What are your healthy commuter habits?