How to Have Proper Form When Strength Training
Lift Right: 4 Ways to Check Proper Strength Training Form
Spending three times a week strength training is a great way to tone your bikini-baring muscles while preventing injury, but not if you're doing the moves all wrong. Here are four ways you can check in with your form to ensure you're effectively doing the moves you already know.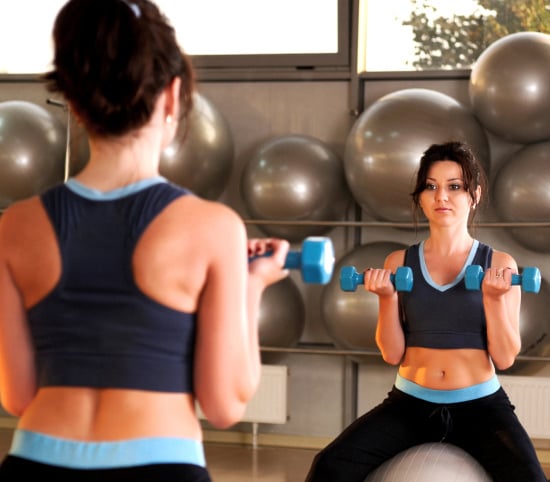 Get a refresher: If you learned how to do overhead presses with forward lunges years back when you met with a personal trainer, it pays to make another appointment for a refresher. She can watch you do all your moves and, if necessary, offer pointers on how to tweak your form. And since she's so involved in the strength training scene, for an added bonus, she can also show you new, more effective variations to tone you faster in less time.
Follow the leader: If paying for a personal trainer isn't in the cards, take a few strength training classes from reputable instructors. They often demonstrate proper form, and are also usually excited to show you a thing or two after class.
Mirror, mirror on the wall: How you perceive what your body is doing and what it's actually doing can be quite different, so for an easy form check, do your routine in front of a mirror. You may be surprised to see you're hunching over while doing deadlifts, or scrunching your face when doing triceps kickbacks. The mirror offers quick feedback so you can correct your form instantly.
And . . . action!: Some moves are impossible or too dangerous to watch completely in front of a mirror (turning your head to see how you do push-ups can cause a neck injury), and with cameras on just about every smartphone these days, it's easy to videotape your moves. It's really helpful to watch yourself in action and see every part of your movement. You might realize that you're not lowering your torso as much as you should while doing push-ups, or that your knees go way past your feet when doing squats. You might also be superimpressed with how ripped your arms look when doing bicep curls, which can give you a confidence boost to stick with your routine.