How Have You Inspired Others' Healthy Habits?
Speak Up: How Have You Inspired Healthy Habits in Others?
I visited my mom a couple weekends ago, and was appalled to discover that as her daily afternoon snack, she devours an entire Hershey's Milk Chocolate Bar With Almonds. No, not a regular-sized 210-calorie bar. With her insane sweet tooth, she said that isn't enough. The bar she gobbles down contains over 600 calories. I felt like her mother when I said, "Do you think this is healthy?" And her response was, "Well, I have a really light lunch. That way I can eat as much chocolate as I want and not gain weight." I was shocked.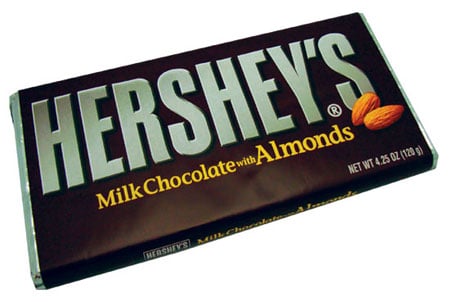 We had a good long talk about how a person can be thin, but still be unhealthy. I said, "Mom, I want you to live a long, healthy life, and eating this much chocolate every day in place of nourishing foods isn't doing your body any good." I explained that she didn't have to ignore her chocolate cravings entirely, that moderation was the key. I think deep down, she knew eating that much chocolate wasn't good for her, but needed to hear it from someone else.
Yesterday, my mom was happy to report that she's given up the chocolate pig-out afternoon snack sessions. Yay! She said, "I started eating Greek yogurt with fruit, just like you suggested, and I feel so much better." I was so proud.
Tell me, on your quest to live a healthy lifestyle, how have you inspired others along the way?