How to Heal Cracked Heels
Healthy Heels For Flip-Flop Season
It's almost that time of year, where our feet go free from the restraints of thick, wool socks and clunky Winter boots — yes, I'm talking about flip-flop season! In addition to being not the prettiest to bare, cracks in your heels, known as fissures, can worsen when skin is exposed to air; drying it out and cracking your skin even further to the point of bleeding and infection. It's hard to walk on, and even more painful if you run, so before slipping on your favorite pair of strappy sandals, do these three things to treat and prevent cracked heels.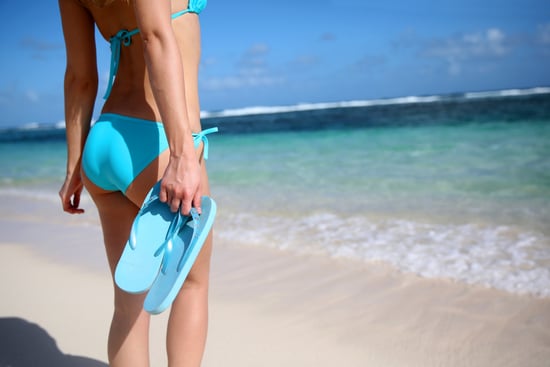 Soak up: In order to remove hard, dry, chapped skin from the feet, it needs to be softened. Fill a shallow bucket with warm, soapy water and soak your feet for 15 minutes.
Become pals with pumice: Pick up a pumice stone from the drug store and after soaking, dip the stone in the water and gently rub it along the skin to exfoliate as much of the calloused skin as you can from the heels. Don't rub too hard or you might cause bleeding. Keep in mind that dry, cracked skin won't be cured instantly — it might take a week or longer of using a pumice stone.
Dry and moisturize: Dry your feet completely with a towel, and allow to air-dry for 10 minutes. Generously apply hand salve or lanolin to your feet, slip on cotton socks, and keep them on for a few hours (or all night if doing this before bed).
Repeat these three steps every day for a week or two, until the fissures are healed. Continue moisturizing your feet daily to prevent future fissures.