How to Incorporate Exercises Into Hiking
Turn a Hike Into a Mini Boot Camp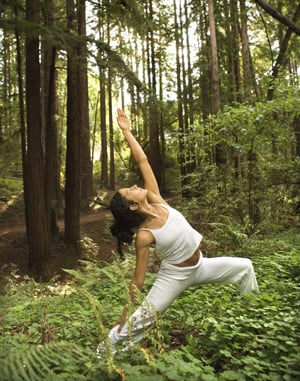 While hiking in the Sequoia National Forest recently, I was inspired by a post from the Get Fit For 2010 community group. FitSugar reader caffeinecaptain adds variety to her workout by turning a nearby playground into an outdoor gym. I thought, "what the heck, I'm turning this hike into my own mini boot camp!" By the time I reached the end of the trail, I was feeling pretty worked. I was also pretty elated: exercising outdoors boots self-esteem levels, and it's good for the planet! Here's how I turned my weekend hike into a kick-ass boot camp:
Plyometrics. Adding up and down movement to a hike adds a new level of intensity. I included short intervals of skipping and hopping, which helps engage muscle groups that may not be used otherwise. To really step things up, I also did short bursts of trail running.
Make use of trees and boulders. It's amazing how easy it is to turn nature into gym equipment. Do incline push-ups off of trees, and use boulders for triceps dips.
Why walk when you can lunge? Really challenge yourself when hiking up an incline by doing a set of walking lunges. Work your arms by using rocks as dumbbells to add bicep curls or lateral raises.