How to Incorporate Fitness Into Your Wedding
Get Moving and Say I Do: Ways to Incorporate Fitness Into Your Wedding
Fitness fanatics have a tough time separating workouts from life, so why should their wedding be any different? Here are some ways to bring an active lifestyle into your big day.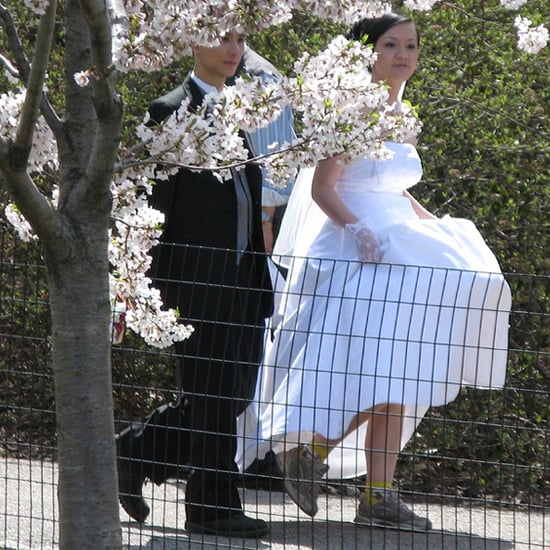 Send out fitness-themed save-the-date cards with you and your partner doing something active, like standing on surfboards with a sign that says, "Water you waiting for? Put this date on your calendar!" Or use a play on words like, "Jenny's finally running away with Mike." You can also design your invitations with exercise in mind. Have them look like a poster advertising a race or use illustrations that depict your favorite sport, such as golf balls and clubs.
If your wedding is going to be over a long weekend, plan activities that'll get folks moving. Hire a yoga instructor to teach a class; plan a scenic bike ride, morning run, or woodsy walk; or play a friendly game of beach volleyball (just make sure the bride's face stays far away from the ball).
Keep reading for more fitness ideas for your wedding.
Plan your wedding date around a 10K, marathon, or other race. Run wearing a veil, white sneakers, and a white running skirt. Meet your husband or wife-to-be and guests at the finish line to have the ceremony right then and there.
Do you have a favorite spot to hike? Maybe it was where your honey proposed, or it has a special place in your heart because you've spent a lot of time there together. Hike your closest crew to the pinnacle to say "I do" while gazing out over the gorgeous horizon.
If the two of you are ski bums, but are lamenting that ski season is over, you can still add a snowy flare to your wedding. Some ski resorts still run their lifts in the Summer. If you have a larger wedding and want everyone to meet you at the top of the mountain (including the older folks and small children), have your guests hitch a ride to the top and say your vows there.
Wow the guests by secretly learning a complicated and seductive salsa dance or Acro Yoga routine and perform it during the reception.
Maybe you and your partner want your wedding to be something extraordinary, a day that's different than all the rest, aside from the fact that you're officially tying the knot. Do something bold and exchange vows while skydiving, scuba diving, or on horseback — just don't drop the ring!
If these ideas are a little too fitness-oriented and you're more into a traditional wedding, you can still add your passion for fitness in the vows ("In fitness and in health"), use old bikes as props for your wedding photos, label all the tables with names of yoga poses or sports teams, wear your favorite kicks under your wedding dress, or give out fitness-related favors like shoelaces that have your name and wedding date printed on them.
Of course, exercise doesn't have to stop once the wedding is over. Plan a fitness-related honeymoon where you go rock climbing on ocean cliffs, hiking in the Himalayas, surfing in Hawaii, or hit up a destination marathon and run your first 26.2-mile race as a married couple (aww).
Source: Flickr User PamelaVWhite