How to Increase Your Sex Drive
Good Health Habits That Will Increase Your Libido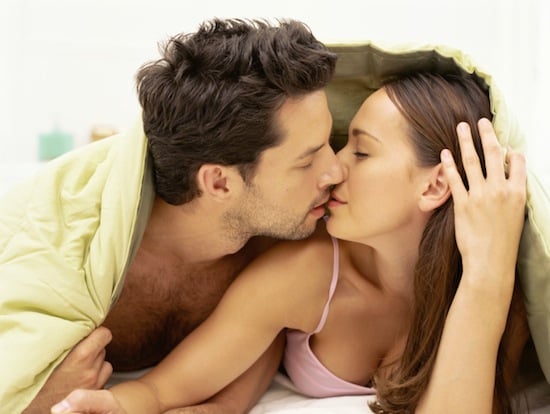 When it comes to keeping our minds and bodies feeling great, living a healthy lifestyle consisting of a well-balanced diet, plenty of H2O and sleep, regular exercise, and an abundance of playtime with friends and family is sometimes all you really need. Adopting healthy habits also does wonders for another facet of total body wellness — your sex life! That's right, taking care of yourself affects all areas of your life, especially the maintenance of a healthy libido. If your sex drive needs a bit of revving, here are some quick and natural ways to bring back the spark. Although if you feel like your low libido could be attributed to a medical issue or medications, be sure to check in with your doctor.
Keep reading for the libido enhancers!
Cut back on booze and caffeine: A glass of wine or a fancy cocktail may seem like the perfect remedy for a low sex drive, but in actuality, alcohol is a depressant, so instead of spicing things up, it can actually act as a downer. In terms of caffeinated beverages, caffeine causes stress on the body, which decreases cortisol levels. When our cortisol levels drop, our adrenal glands become taxed and therefore can't produce the proper hormones we need for an optimal (and healthy) sex drive.
Sleep more and exercise more: Sounds simple, but not getting enough shut-eye leads to serious fatigue. Any fatigue will zap your sex drive, so follow these tips and tricks for a better night's rest. Exercise is great because it helps improve blood flow to the sexual organs. It also combats stress, makes you feel more confident about your body — time to leave the lights on! — and does wonders for lifting your mood. Sex? Yes, please!
Mind over matter: Know what you like in the bedroom? Visualize it, fantasize about it, and the rest will be history. Oftentimes, imagining what you want to happen when it's time to get frisky is half the battle. Mentally you'll already be there, so throw in some physical fun, and the rest will be history. Other easy tips to try? Be vocal about what you want, since a little direction goes a long way; stay on task and focus on the moment — not on that argument you had with a co-worker; change things up to up the excitement factor; and remember to breathe. Just like breathing while exercising is crucial, breathing during sex is very important!