How to Keep Gym Bag Germ-Free
4 Gross Things You Should Never Do With Your Gym Bag
Without your gym bag, your workout most likely wouldn't be possible. It houses all the necessities like your pre-workout snacks, water bottle, sports bra, sneakers, gym membership card, and the clean, dry clothes you'll need after your sweat session. Aside from all those important things, your gym bag can also be a breeding ground for germs, mold, and bacteria, so avoid these gym bag no-nos.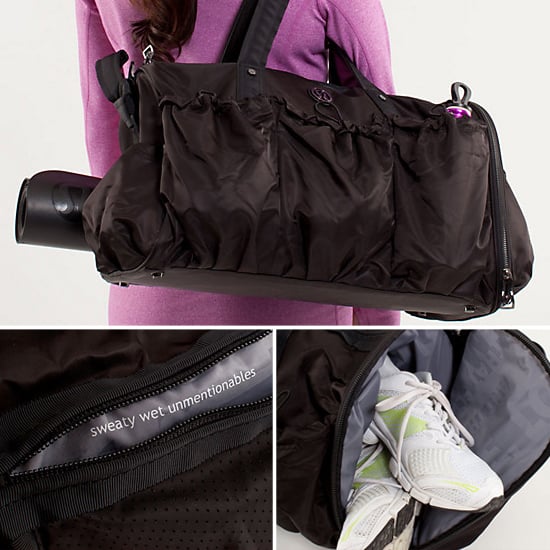 Forgetting about your wet stuff: Even if your gym bag is fancy enough to have a separate storage compartment for sweaty clothes, don't forget about them when you get home from your workout. Mold and mildew love dark, moist places, so be sure to get those wet workout clothes, socks, bathing suits, and towels out of your bag ASAP. Wipe it down with a disinfectant wipe, and leave the compartment unzipped and the bag in a well-lit and well-ventilated area.
Leaving used gear in your bag: Yoga mats, sneakers, and armbands also get sweaty, so allow them to air out as well. Unroll your yoga mat and leave it hanging over a door or banister, leave your sneaks out in the sun, and spread out your armband on a table. You'll be psyched to slip on dry, stink-free gear the next time you work out.
Leaving perishable snacks or food wrappers in your bag: Cheese sticks, fresh fruit, and energy drinks are perfect when you need to fuel up before or after a workout, but an apple core won't smell very good after a week in your gym bag. When removing your sweaty clothes and gear, be sure to get rid of food-related items as well.
Forgetting to clean out the bag once a week: Crumbs from pre-workout snacks, wetness from sweaty clothes and gear, and dirt from your sneakers will make for one stinky gym bag. To avoid an unpleasant whiff when unzipping your bag before your next workout, be sure to do a thorough clean-out of the inside compartments at least once a week.