How to Keep Your Toothbrush Germ-Free
What Not to Do With Your Toothbrush
It's not something you give much thought to other than the two minutes you use it twice a day, but if you're not taking care of your toothbrush properly, you could be exposing your body to germs and increasing your risk of cavities.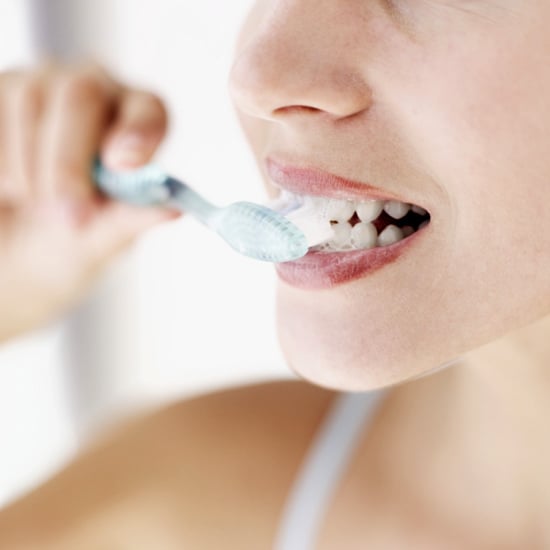 Putting it away: The medicine cabinet seems like a clean, safe place for your toothbrush, but darkness and lack of air are what bacteria love. Store it out in the open where it has the chance to dry out.
Laying it flat: Don't leave your toothbrush lying sideways on the counter. Store it upright in a nifty holder, so gravity can do its thing and allow wetness to drain away from the bristles.
Covering it up: Things that stay moist are breeding grounds for bacteria. So in order for your toothbrush to have the chance to dry out completely between brushings, avoid using toothbrush covers, cases, or plastic bags (unless your toothbrush is completely dry).
Brushing and flushing: If you're like most people, you keep your toothbrush in the bathroom. But whenever you flush the toilet, bacteria gets sprayed into the air where it lands on your toothbrush bristles. Totally disgusting, I know. Keep your toothbrush at least three feet away from the toilet. Or, better yet, just keep the toilet lid closed.
Keep reading for more toothbrush mistakes.
Storing it next to the sink: Placing your toothbrush holder next to the sink is what most people do, but it allows dirty or soapy water to splash up when anyone washes their hands. Store it away from the sink on a shelf or adjoining counter.
Sharing: Even though you're super close with your husband, it doesn't mean you should share toothbrushes. Sharing is a great way to swap germs. Also avoid storing your toothbrushes next to each other because when they touch, germs can also spread.
Using cleaners: When cleaning the bathroom, avoid contaminating your toothbrush by moving yours out of the way before spraying toxic chemicals.
Microwaving: You may have heard that microwaving or throwing your toothbrush in the dishwasher is a great way to disinfect it, but this can actually damage your toothbrush.
Holding on for too long: When the bristles show signs of wear or are spread apart, it's time to replace it, which is usually about every three months. A worn-out toothbrush isn't very effective at cleaning your teeth, and if plaque builds up on your teeth, you can say hello to cavities.