How Kelly Osbourne Lost Weight For the Pussycat Dolls
Get the Bod: Kelly Osbourne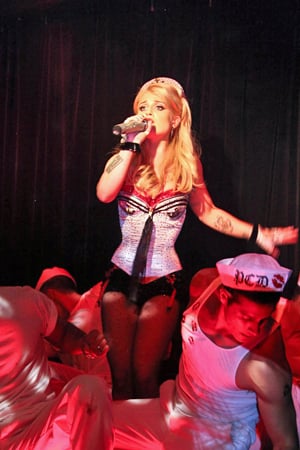 Back in November when Kelly Osbourne joined Dancing With the Stars, she said that her "body was going to get sick" from all that dancing. She wasn't lying. The youngest Osbourne took the stage with the Pussycat Dolls last week, looking smokin' hot alongside performers Mya and Carmen Electra. It's hard to believe that the size two starlet was a size 14 less than a year ago, and almost 50 pounds heavier. If you're as impressed with Kelly's transformation as we are (and want to see even more pics), read more to find out how she made it happen.
No short-term diets. For Kelly, diets are out of the question; instead she set out for an overall lifestyle change, which meant making over her food choices. She sticks to whole, natural foods, and stays away from processed carbs. Eliminating refined sugars was tough, but Kelly saw the difference almost immediately. She also eats a small low-carb, low sugar snack before bedtime to keep her metabolism on the go.
You can't skip workouts. While a lot of the weight came off during DWTS, Kelly continues to maintain it through regular workouts. She's a fan of Pilates and Bar Method, workouts that she does at least three times a week.
It has to come from the inside. Part of Kelly's process involved working on her self-esteem, and not obsessing over the little things. Instead of focusing on flaws, she's learned to love what she sees in the mirror. Kelly also doesn't obsess over counting calories, or weighing herself because she doesn't want her healthy makeover to be a number game.