How to Lock Up a Bike
The How-Tos of Locking Up Your Bike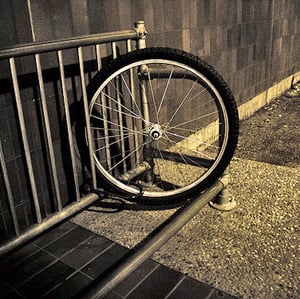 As someone who lives on her bike, I get seriously bummed whenever I hear that someone's bike was stolen. The former first daughter — Jenna Bush Hager — and her husband had their mountain bikes stolen from their garage last Friday. Making matters worse, the Trek bikes were pretty pricey, totaling $3,500. Not a cheap loss by any means. This whole episode reminded me of the importance of properly locking and storing your bike, something I've become pretty good about. And though I may sound a little paranoid, I live in an urban area where bike theft is not only common, it's rampant.
Here are a few reminders when it comes to proper locking technique:
Take extra precautions and store your bike inside of your home. Based on personal experience, I know that it's a lot easier for thieves to get into a garage, which is why I keep my bike in my hallway. If space is an issue and you have to keep your bike outside or in the garage, still make a point to lock it up. A friend of mine locks her bike to her backyard stairwell railing.
Start off with a secure lock. The more important your bike is to you, the better the lock should be. All bike shop owners I know say to invest in a U-lock because these protect best against bolt cutters — Kryptonite is known as making some of the best out there. I also have locking skewers for my wheels and bike seat so they can't be removed with a simple Allen wrench. At the very least, ditch the quick release skewer on your front wheel so it's not an easy target for thieves, or make sure to always lock that front wheel. Also, the less wiggle room in your lock, the harder it will be for a thief to fit a jack inside of it.
To find out the rest of my tips, read more.
Make sure to always lock your frame. The most common mistake I see on the street is people neglecting to lock the actual bike frame. Instead, they secure their bike lock around a wheel, the fork, bike seat, or handlebars. All a thief would have to do is remove the unlocked bike frame from the locked portion of the bike with a wrench. Ideally, you should try and fit as many components through your lock as possible. My guy always secures his U-lock around the frame and front wheel of his bike before locking it to a parking meter.
On that note, lock your bike to something secure. Lock your bike to an object that is securely bolted into the ground and that your bike lock can't be pulled through or over — like a parking meter, for instance. Professional bike thieves have all sorts of tools in their arsenal to remove a bike from a faulty object. I've known people who have locked their bikes to trees and had them stolen.
If you're out for the day, don't keep your bike in one place for too long. Bike thieves circle neighborhoods and take notice of bikes that are left out for multiple hours, it's their cue that the bike owners aren't coming back anytime soon. In San Francisco, a favorite spot for bike thieves are movie theaters because they know bike owners will be gone for at least a few hours. If you do need to leave it sitting for a bit, find a well-lit area with heavy foot traffic.
Are there any tips you'd like to add to the list?
Source: Flickr User billaday