How to Lose Baby Weight
How to Lose a Muffin Top After Having a Bun in the Oven
After gaining weight during a pregnancy, you may have a beautiful baby to bounce on your knees, but you haven't necessarily bounced back to your prepregnancy self. With barely enough time to shower or sleep, who has the energy to work out and cook healthy meals? It seems difficult, but these tips can make the process easier.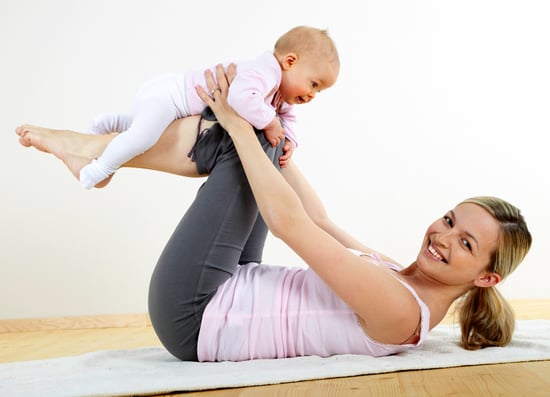 Remember, you're no longer pregnant: If "eating for two" gave you an unofficial green light to eat anything you wanted, then it's time to start a new eating plan. As a mom, it's essential to take care of yourself; taking care of your little one requires energy, and a diet based on pizza, chips, chocolate, and late-night pints of ice cream just won't cut it.
Eat small meals: Moms who breastfeed need about 500 extra calories a day to make milk. Since your hunger level is likely to be high, instead of eating three larger meals and two small snacks, eat six to eight small meals (about every two hours) to keep hunger at bay.
Plan ahead: Since your free time is spent changing diapers, doing laundry, or sleeping, it's difficult to make time each day to prepare wholesome meals and snacks. Set aside an hour or so each week to write out a weekly meal plan, complete with a shopping list so you'll have the ingredients to whip up nutritious food all week long. Cut up fruits and veggies and store them in the fridge to make preparation easier, and when you find the time to cook, make triple or quadruple the recipe and freeze the leftovers for a quick meal later.
Eat a salad for a meal once a day: This ensures that you eat veggies at least once during your busy day. Start with nutritious baby spinach, and add a variety of fresh veggies, beans, a lean protein such as grilled chicken or marinated tofu, and some diced fresh fruit, and go easy on the high-calorie toppings such as cheese, seeds, avocado, and dressing.
Focus on cardio: In order to lose weight, you need to burn fat by doing heart-pumping cardio. Once your doctor gives you the go-ahead to start exercising, gradually get back into a regular workout routine that involves at least three 30-minute cardio sessions each week.
Incorporate your little one into workouts: If it's hard to find someone to watch your baby, then incorporate him or her into your workouts. Go to a postnatal yoga class together, go on a hike while using a baby carrier, or use a jogging stroller to take a run around the neighborhood. If you'd rather work out alone, then put on your workout gear as soon as you get up in the morning. The minute your baby goes down for a nap, hop onto your home treadmill, pop in a fitness DVD, or grab a pair of dumbbells.
Guzzle water: H20 is not only calorie-free, but it'll also help make you feel full, and for an added bonus, it can also increase your milk supply.
Be patient: Don't worry about celebs or other moms you know who were able to sport a bikini weeks after giving birth. Baby weight doesn't just fall off for most women — it can take up to a year or more to get back to your old body.