How to Love Running Outside
Learn to Love Running Outdoors
Warmer weather means you can kiss the treadmill goodbye and head to open roads. But if you're not a fan of running outside, here are some ways to inspire a love of running in the great outdoors.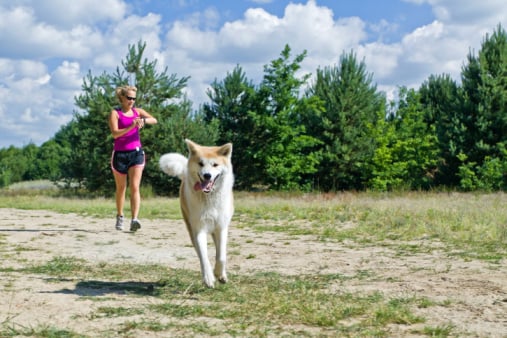 Seek out gorgeous scenery: From soft, sandy beaches to breezy trails overlooking mountains and flowery community gardens buzzing with hummingbirds, find a new place that's so beautiful you can't wait to be there. An inspiring place is a wonderful distraction, so you'll forget you're running and just enjoy being in nature. You might even end up running longer too.
Bring Fido: One of the perks to running outside is that you can bring your dog along. Their adorably smiling face, wagging tail, and the way they bound in glee is sure to put an extra pep in your step. Plus, seeing those sad eyes yearning for a run is a great way to inspire you on days when you're just not feeling it.
Go for the gear: Splurge on a GPS or go for the free Nike+ Running app for your phone. Either way, it's fun to have a log of all your runs and to keep track of your mileage, pace, and calories burned to inspire you to run further and faster than your last run.