How to Maintain a 40-Pound Weight Loss
Before & After: How Mahina Maintains a 40-Pound Weight Loss, 4 Years Later
As part of our Before & After series, we've met quite a few hardworking women in the middle or at the end of their weight-loss journeys. But what happens next? Mahina, our newest Before & After success story, details how she maintains the dramatic weight loss she achieved in college, four years later. Read on for her story!
Mahina: Before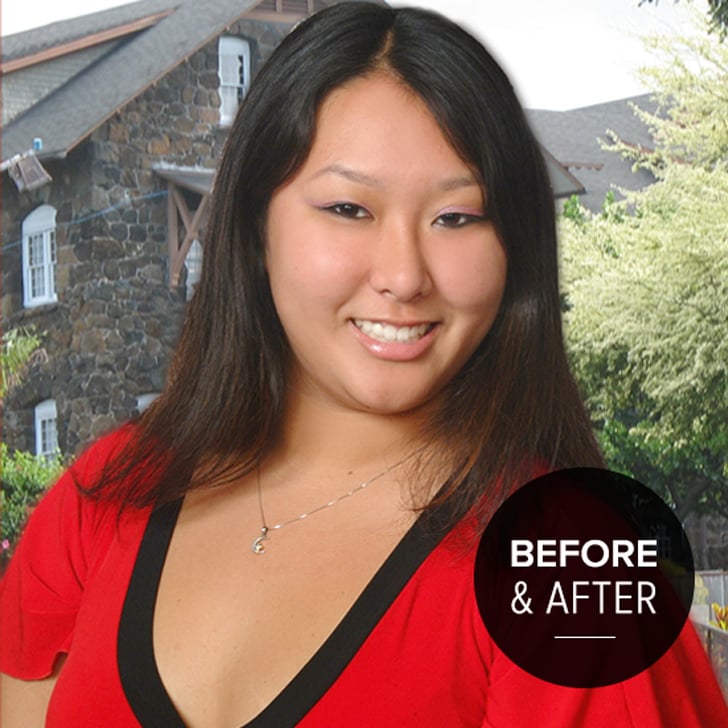 POPSUGAR Fitness: What made you decide to start?
Mahina Komeiji: I actually didn't decide to lose weight. I was just going for my first year in college and decided I at least needed to be able to defend myself, so I signed up for kickboxing in my senior year of high school. I loved the support my class gave me. I ended up going every day, even fighting through injuries. I lost six pounds that year, but that was just a benefit. I loved the exercise. I loved that I was allowed to eat more and have a reason for eating. I began owning my weight when I took jujitsu in addition to the kickboxing — it helped me with body control and using my body to my advantage. It was the first time I was able to get a taste of my strength.
When I went away to college, away from my home gym, I needed a way to keep myself active. I signed up for a gym with a punching bag, which was surprisingly difficult in the area. I did the elliptical and kickboxed — this resulted in my first semester being Freshman -30. I went home and got a lot of praise. Then the next semester, as I continued my routine and even added light weights, it became Freshman -10. I was hooked. I was hooked to exercise, to weight loss, and overall to a healthier lifestyle.
Four years later, I've come a long way. I've learned to hit it hard and vary my workouts. I exercise six to seven days a week. In 2013, I ran two half marathons, a full marathon, lost 10 pounds on a cleanse, ran more than 170 miles in a month, have a nine-minute mile, joined fitness classes again, joined several exercise groups like the November Project and City Sports Run Club, and started to eat healthier.
PS: What's your favorite way to work out?
MK: My current favorite way to work out is a long run, followed by weight lifting, and if there's time, a swim. Swimming really helps me to stretch and loosen my muscles. I'm coming off of a broken tailbone and have needed to accommodate my injury.
Mahina: During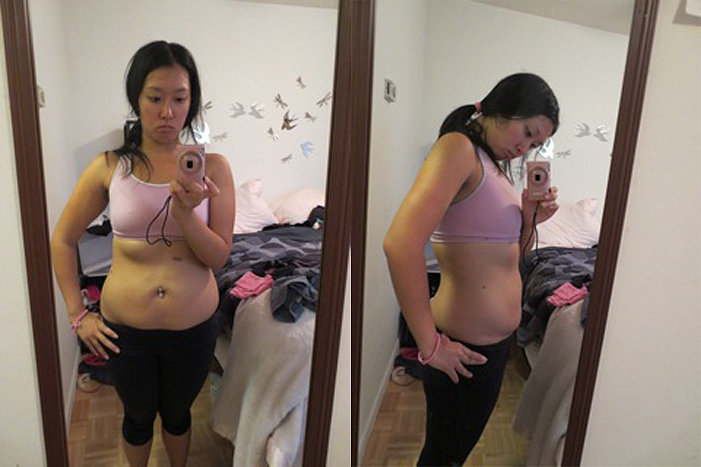 PS: What's your weekly exercise schedule?
MK: My weekly exercise schedule is:
Sunday: Long run (six to 10 miles) and light weights
Monday: Swim for 30 minutes, stairs or elliptical for 30 minutes, and weights (weighted squat press, shoulder press, lunges, bicep curls, triceps extension, chest press, chest fly, and chest row)
Tuesday: Run for 30 minutes, Tabata Tuesday (20-second/10-second burpees/high knees, side plank with weight/in-and-out abs, side lunge with weights/push-ups, mountain climbers/tuck jumps)
Wednesday: Swim for 30 minutes, stairs or elliptical for 30 minutes, and weights (single-arm bicep curl, triceps kickback, TRX row, TRX pike, single-leg lunges, front raise, lateral raise, zip up, bent-over fly)
Thursday: Break, short run or elliptical if I need to burn energy
Friday: 45-minute run and weight lifting.
Saturday: Five-mile run, 30-minute stairs or elliptical and light weight lifting
PS: How do you keep workouts exciting?
MK: To make sure that I don't get bored, I vary my workouts. I've done kickboxing, jujitsu, Insanity workouts, TurboFire, Spin classes, weight-lifting classes, Saturday morning run clubs, November Project (6:30 a.m. workout group), and just tell myself I only regret the workouts I don't do. Even if I only get out for a little while, it's something. I love working out with groups like November Project — it doesn't mesh with my schedule now, but if there's one by you, check it out. I work out with friends as well: we have a 50-squats-a-day challenge going right now (100 for me, though).
Mahina: After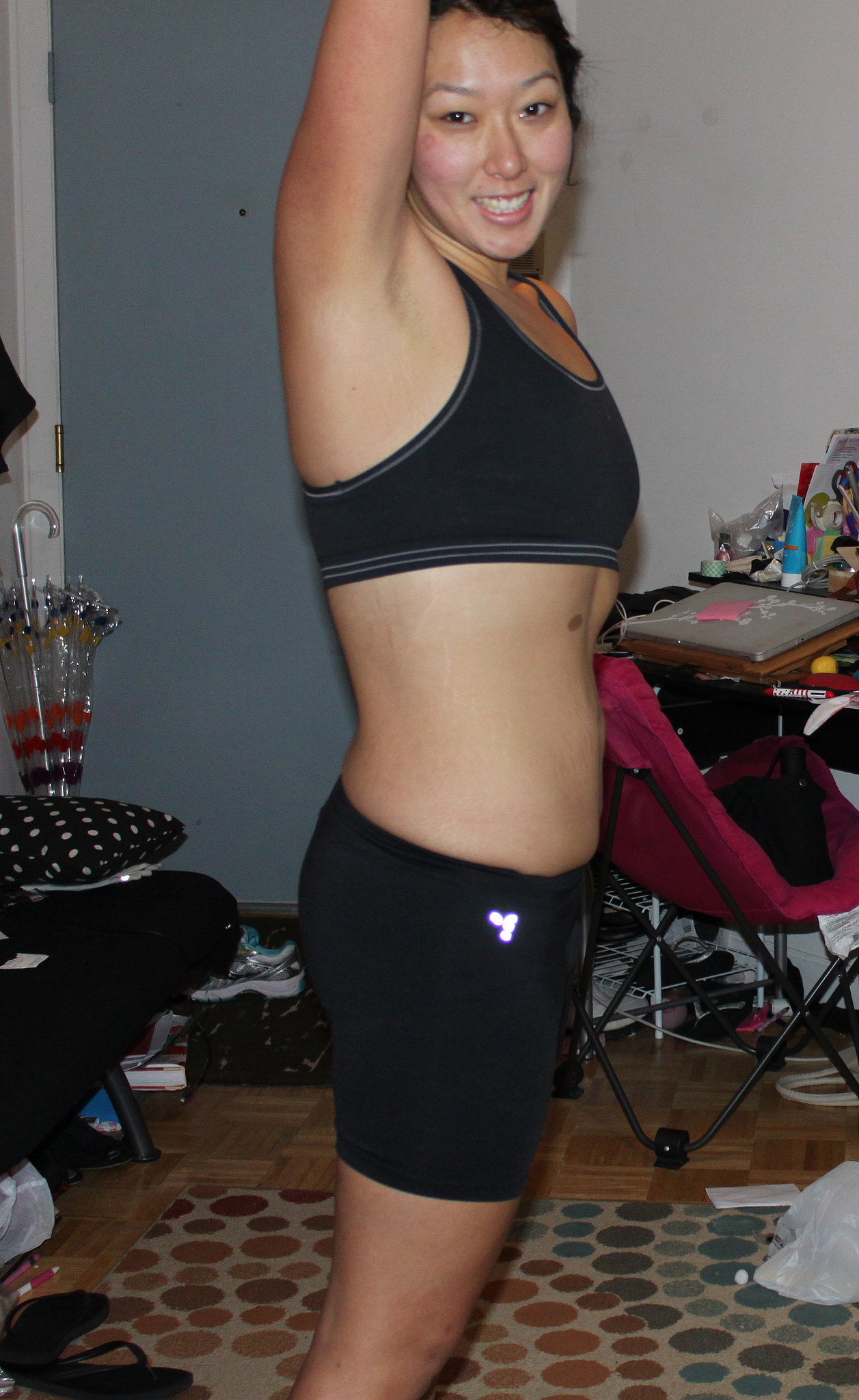 PS: What was the first big difference, other than the number on the scale, that really made you feel proud and excited?
MK: The first big difference was seeing old pictures of myself and seeing my new abilities in action. I can see my face and how it's slimmed down. Then running used to hurt, but I forced myself into a mile, then three, then five, eight, 10, 13, and then I was marathon training. Easy activities didn't wind me; running didn't wind me: it was just keeping the focus. At the beginning of 2013, I got to throw out a stack of "fat jeans" because I was finally convinced I'd never wear them again (tip: throw out your old clothes — it's liberating and makes it a permanent change).
Mahina: After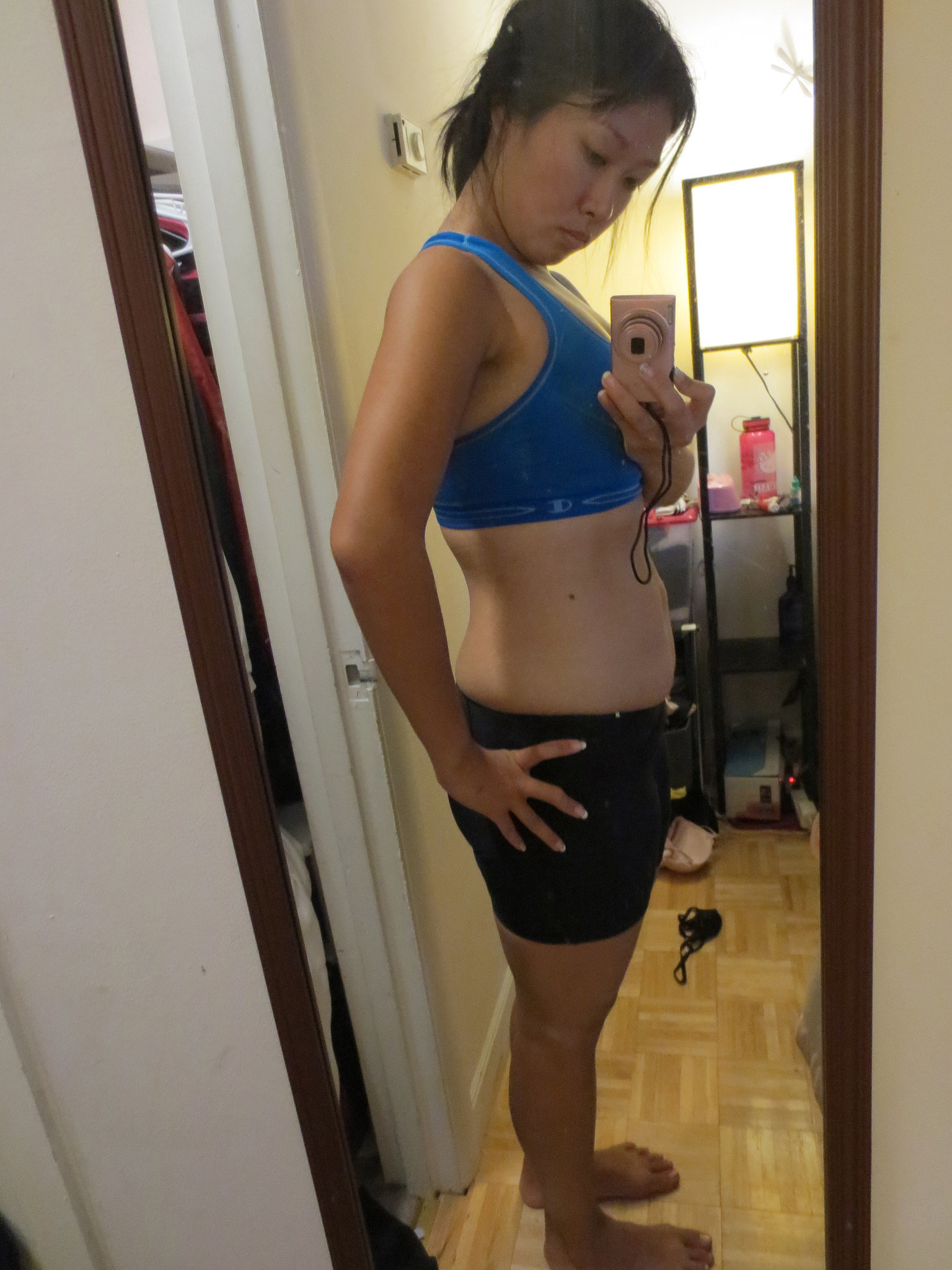 PS: How much weight have you lost?
MK: I stopped losing weight drastically on the scale. Now I have to measure weekly, weigh in just to keep tabs, see how my clothes fit, and see how I feel when doing everyday and intense activity. Not seeing the number change is very frustrating, but to see the number change on the tape measure is reassuring.
Mahina: After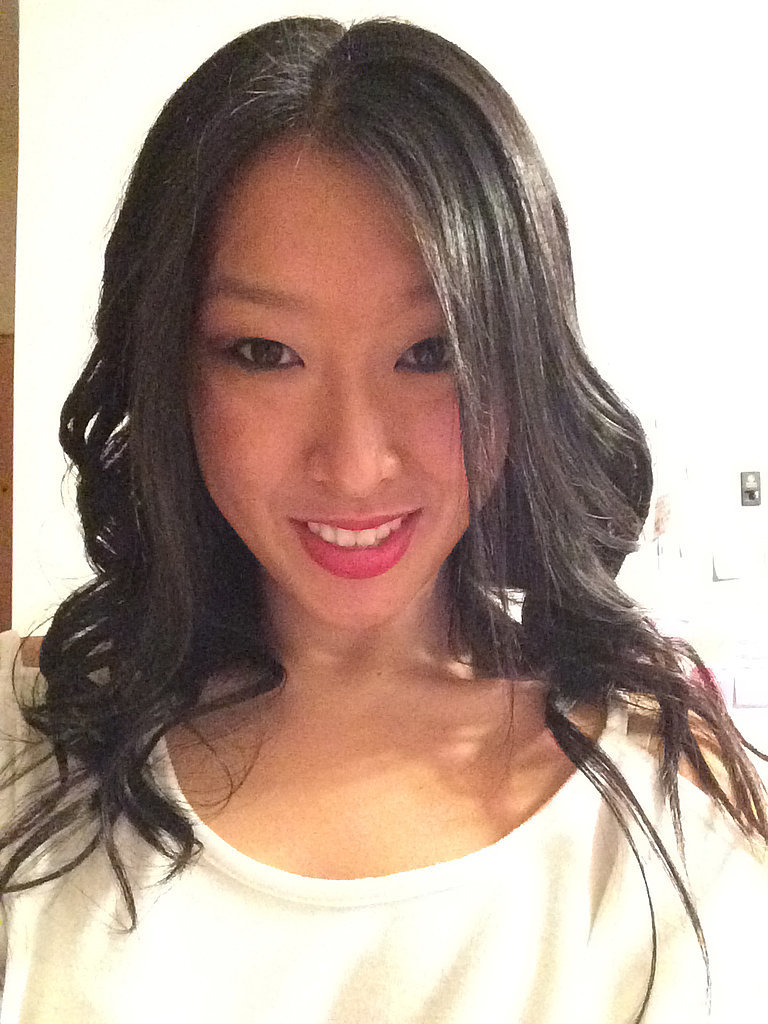 PS: What's the range of calories you eat per day?
MK: I'm told my average intake for my activity level should be about 1,450 calories a day.
PS: What's a typical day of meals and snacks?
MK: A day of typical meals is:
Breakfast: overnight oatmeal (1/3 cup oats, two tablespoons chia seeds, 1/3 cup almond milk, 1/2 sliced banana, 1/2 cup nonfat Greek yogurt, and 1/3 cup granola. Optional: one scoop protein powder, one tablespoon peanut butter, etc.)
Lunch: Salad — lettuce, spring mix, or spinach, cheese (feta or cheddar), meat (steak, chicken, tofu, or hard-boiled egg), other things (sugar snap peas, chickpeas, broccoli, sweet peas, olives, green beans, etc.), dressing (two tablespoons): homemade Dijon dressing, homemade garlic dressing, balsamic dressing, soy ginger vinaigrette, honey mustard dressing, low-calorie French or Thousand Island dressing
Dinner: Lean meat, veggies, and carbs (e.g., Crock-Pot chicken, side salad, and small whole wheat roll)
Dessert: a 100-calorie pudding pack, banana with peanut butter, a cookie, or Greek yogurt
Snacks: Carrots with hummus, string cheese, or an apple with peanut or almond butter
PS: How do you strategize for meals out?
MK: When eating out, first, is there a light menu? Yes? Order from there. No? Are you with lots of people? Share dishes family style. You get a little bit of everything, but you don't necessarily eat an entire plate. They don't want to share, you say? OK, split your own plate in half. Take the rest as leftovers. Eat slowly. Chew thoroughly.
PS: What advice do you have for anyone starting out on a weight-loss journey?
Don't give up.
If you slip and have a bad day, accept it as that and move on — don't dwell or beat yourself up.
Don't exercise to eat: eat to fuel. It can be yummy at the same time, but be careful about how you're fueling your body (this took me the longest to learn).
Moderation is everything — food and beverage intake, exercise, downtime, etc.
Listen to your body — really, really listen. Are you hungry? Yes. Are you sure? Drink a cup of water — how do you feel now? Tired? Take a nap or a rest day. Listening to your body is the best way to avoid injury, dull workouts, and even larger setbacks.
Follow Mahina's journey on her Instagram account or her blog, A Kinda Food Blog.
Do you have an inspiring Before & After story to share? Message us on Facebook, and give us a few details of your journey. We might even profile you on the site, like Mahina!