How to Make Cooking at Home Fun
Stay Motivated to Cook by Spicing Up Your Kitchen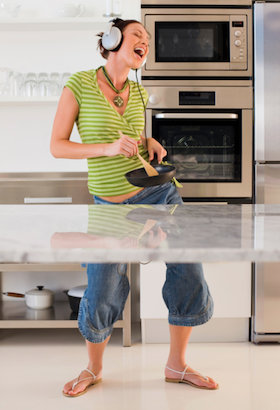 When I used to fantasize about my dream home, I would picture a massive sunken living room where everyone would congregate and socialize. But now that I'm getting wiser older, my visions have shifted from having my living room be the focal point of the house, to making my kitchen the "it zone" where everyone wants to gather.
The thing is, I'm a decent cook and I enjoy whipping up new dishes. But what keeps me in the kitchen is the fact that I make my kitchen fun. Home cooked meals are cheaper than dining out, and they are often healthier and taste better too. These are the very reasons why I focus on making my kitchen a place that I enjoy spending time in. And not only that, but I make sure the cooking process is exciting, too. Here are a few of my tips for making it fun to cook nutritious meals at home.
Grab a buddy Having a friend or family member join you in the kitchen is always a treat. Put your sous chef to work by having them chop up veggies or wash some lettuce. This way it'll be a team effort and your healthy dinner will be finished before you make it through your first glass of wine!

Find out what else you can do to make cooking in the kitchen fun.

Turn up some music Bring your iPod dock, CD player, or radio into the kitchen and put on your favorite tunes. Good music not only gets you in the mood to work out, but it'll keep you in the kitchen too. Rock out like no one is watching.
Splash your kitchen with color! The kitchen is a no holds barred room in the house, so take that bright and bold color you love and incorporate it into your kitchen's decor. Whether you paint the walls, or buy bright bowls and appliances, you'll be amazed at how great your kitchen will make you feel.
A TV — Yes, I said it! I know this might sound more unhealthy than not, but hear me out. Watching television is one of my guilty pleasures. And sometimes if there's a show I know I need to be watching, I'll skimp on my time in the kitchen so that I can head straight for the couch. I've made some of the best meals of my life while catching up on my reality television, thanks to the location of my TV. When I read 30-minute prep time on a recipe, I say — who cares! I can cook all day if I get to watch my favorite shows. What's more is that you can also watch cooking shows to further evolve your talent in the kitchen.
What's your secret for making your kitchen fun?