How to Make Crunches More Fun
5 Ways to Spice Up Traditional Crunches
If crunches are part of your regular fitness regimen, you may feel like this basic move could use fresh inspiration. If your ab routine is feeling a little dated, but you're not ready to give up crunches just yet, have no fear. Here are five easy ways to spice up everyday crunches.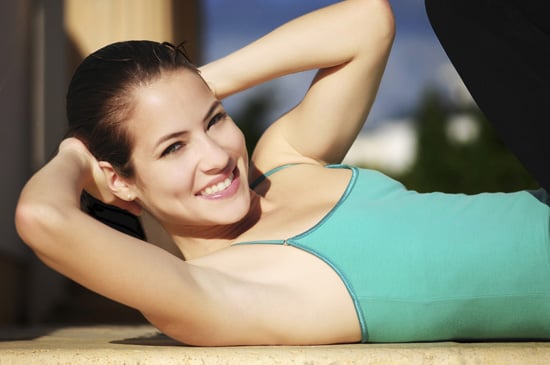 Take a twist on the tradition: Crunches are even better when you mix up the movement to target different areas of your abs. Target obliques by doing a few sets of bicycle crunches or seated Russian twists.
Grab a partner: If you typically go it solo, find a friend and bring some new motivation to the exercise. Your partner can grab your feet and make sure you've got the right technique that will engage your core and tighten things up. Or, do crunches side by side for a little healthy competition!
Bring out the ball: It's been proven that crunches on the exercise ball are the most effective, making abs work at least 24 percent harder than being on the mat. You may have dropped crunches on the ball from your workouts, but there's no better time than now to hop on board and make them part of your routine. Work your upper abs by doing crunches on an exercise ball.

Keep reading for two more ways to freshen up your crunches.

Get some wild music: Isn't everything a little more fun with some loud music to get you pumped and going? Put on your favorite pop tune or maybe some spicy salsa in order to get you motivated and moving.
Try some weights: If you're a fan of working with dumbbells, these dumbbell crunches may be just your speed. They're a more challenging version of the traditional exercise, and since you're working out your bod a little harder, you'll get to do fewer!
Got any other fun ideas to mix things up with your crunches? Share below!