How to Make a Dessert Recipe Vegan
Bu-Bye, Butter! 5 Ways to Veganize Desserts
There's nothing like biting into a homemade cookie right out of the oven, but all the butter, eggs, and cream add fat, cholesterol, and calories to your diet. If you can omit those ingredients and make your recipes vegan, you'll be doing your heart and your waistline a favor. Don't want to compromise on flavor? Of course, you don't. Here are five easy ways to veganize basic desserts so your butter-loving self will hardly notice the difference.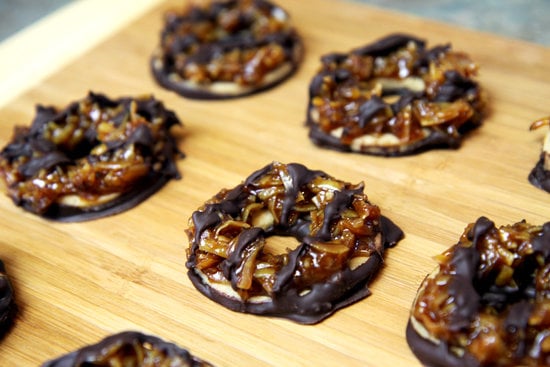 For eggs: You probably remember making volcanoes when you were a kid using baking soda and vinegar. That amazing foaming reaction can offer the same binding qualities as an egg. For every egg, use one tablespoon of vinegar along with one teaspoon of baking soda. This egg replacer works best in cakes, cookies, muffins, and quick breads. If you want more fiber in your baked good, make flax eggs by mixing two and a half teaspoons flax meal and three tablespoons of water.
For butter: Instead of fat-and-cholesterol-filled butter or shortening, choose either avocado, banana, or prune puree. Whatever the amount of butter the recipe calls for, use half fruit puree and half Earth Balance margarine. Try it in cookie, cake, and quick bread recipes.
For milk or yogurt: This substitution is a cinch since soy, almond, and coconut milk taste like dairy milk. Choose vanilla-flavored for an even sweeter treat. The same goes for recipes that call for yogurt or sour cream. Just replace those ingredients with either soy or coconut milk yogurt. And tofutti cream cheese is made with soy but tastes so much like regular cream cheese that it makes a perfect vegan substitute.
For buttermilk: Mix one cup of soy or almond milk with one tablespoon lemon juice or apple cider vinegar and let stand for five to 10 minutes.
For chocolate: Semisweet chocolate chips aren't vegan, but what's a chocolate chip cookie without them? Go for dark chocolate chips instead, like the ones used in these Vegan Samoas. Just be sure to read the label since some brands contain milk. Add a little espresso powder for a richer chocolaty flavor.