How to Make the Elliptical Harder
4 Easy Changes to Make the Most of Elliptical Time
You may feel like a champion when you move through your standard workout routine, but flying through the lowest incline settings on the elliptical isn't helping you achieve the best workout possible. If you're ready to push your body's limits and take your gym routine to the next level, these four tips will help you make the most of your workout time.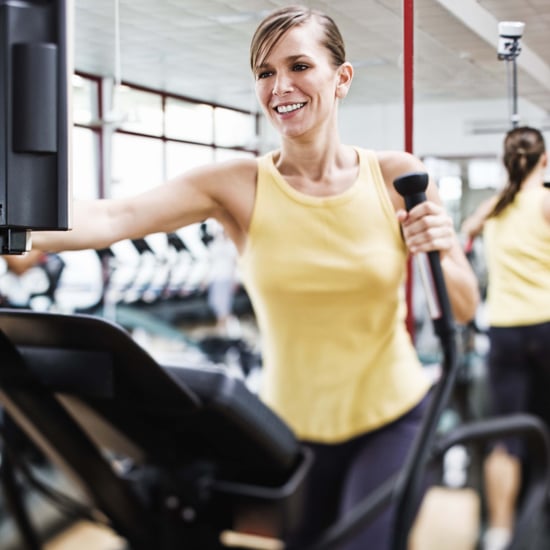 Have a plan: If you just hit "quick start" and don't switch up anything during your workout, you're not making the most of precious workout time. It may take another extra minute to input all your information, but when you do, you're putting yourself in the best position to get the best workout for your body's needs. Instead of going basic, customize a workout that is suited for your needs. Try this 40-minute elliptical plan to kick boredom to the curb or a 30-minute elliptical workout that works out your whole body.
Increase the incline: Kicking up the incline isn't just for treadmill time; it makes a huge difference on the elliptical, as well. Bumping up your incline on the elliptical helps target different muscle groups and forces your whole body to put in more effort and work out harder.
Keep reading for two more helpful tips to make the most of your elliptical workout.
Go for intervals: Alternating between periods of pushing your body to the max and rest periods has been proven to help you lose belly fat. This metabolism-boosting workout technique is perfect for a charged-up elliptical exercise session.
Back it up: Changing directions on the elliptical is a great idea. Pedaling backward will really challenge the backs of your legs and help strengthen your core. If you haven't done this before during your elliptical, then you've got to try it; you will definitely feel the burn with this change.