How to Make Exercise Fly By
How to Make an Hour of Exercise Fly By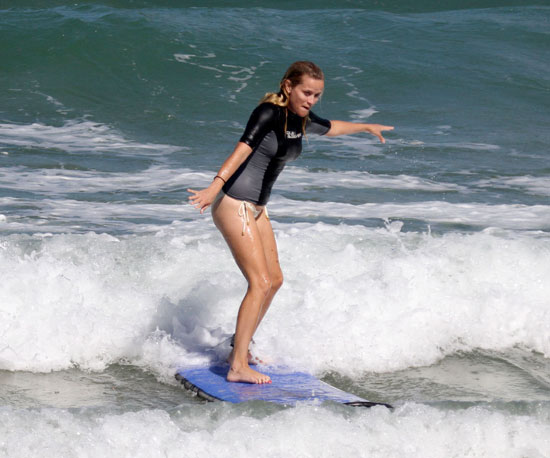 Reese Witherspoon has said that she tries to exercise every day. "I like to run for about an hour and I'm big into working out with girlfriends. It's an acquired skill, being able to discuss your love life, children and friends — all while you're running! But we have mastered it." Gabbing with your friends is an awesome way to make the time fly. You get your cardio and therapy session all at once. Here are some more ways to make an hour of exercise feel like nothing.
Change Things Up — Just like Reese, do something super active or challenging that's not repetitive. Surfing, rock climbing, or an ashtanga yoga class require so much movement, balance, and concentration that you're too busy moving your body to think about how much time has passed.
Keep reading to find out what else you can do to make exercise time fly.
Go Outside — When running, biking, or doing another type of repetitive exercise, do it outside. The scenery, winding hills, and other people will give you something to watch and keep your attention, motivating you to keep trucking along. Run along the beach, bike on the boardwalk, or take a brisk walk while you window shop. You can also plan to exercise to a destination, like to meet a friend at a local café for a lemonade.
Entertain Yourself — If you're doing an hour of cardio on a machine, listen to a 60-minute podcast, a book on tape, or watch two episodes of your favorite sitcom (I'm a fan of Modern Family). If it's something you haven't heard or seen, you'll be both inspired to start your workout and to continue for the entire hour.
Do Something You Love — If your workout is a major bore, you're more likely to skip out early or miss it entirely. There are so many fun ways to get your sweat on like hitting a Zumba class, mountain biking, doing a hooping DVD, rollerblading, or going kayaking (amazing arm workout). You know it's fun if you're sad the 60 minutes are up.
Mix Up Your Routine — Run your usual route backwards, bike in a new area of town, do your strength training exercises in a different order, or mix it up completely and try a new fitness class. Trying something you've never done when it comes to your workout requires more thinking, so your brain is too preoccupied with what's happening next to glance at your watch.