How to Make Fruits and Vegetables Last Longer
3 Tips to Keep Veggies From Spoiling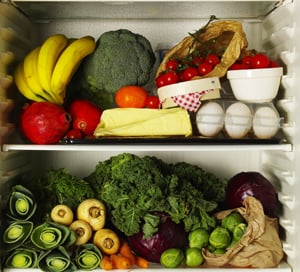 This week, the New York Times published a study, showing that 40 percent of food waste occurs in the home. It's a distressing statistic that I am a part of; just last night I opened my crisper drawer to discover a sad bunch of broccoli rabe and a wilted red pepper. Wasting produce is bad for the planet, our wallets, and it's insulting to those who don't have the luxury of forgetting about food.
Plan ahead and only buy what's necessary. In the times I've been to France and Italy, I was impressed at how often people went shopping for food. People go to local markets almost daily to pick up ingredients for that night's dinner; it ensures that everything is at its freshest and also cuts down on waste. If frequent shopping isn't possible, plan your meals ahead of time. That way, when you do go to the market, you won't buy too much of anything.
Store produce in plain sight. Once produce goes into the crisper drawer, it's hidden away and easily forgotten. Instead, keep produce on refrigerator shelves as a visual reminder. If you're worried about produce spoiling outside of the crisper drawer, use Evert-Fresh or Debbie Meyer green bags, which actually work in keeping produce fresher, longer. Clear Tupperware also works well.
Preserve veggies by blanching or freezing. An easy way to preserve the freshness of vegetables is to blanch or freeze them. Both of these techniques help lock in the flavor and nutrients of veggies, while also making them last longer.