How to Make Healthy Chili Cheese Fries
Make It: Healthier Vegetarian Chili Cheese Fries
On days when I'm craving some comfort food, you can find me in my kitchen making nachos or this mouth-watering snack — vegetarian chili cheese fries. Even if you love the real deal — fries piled high with beef-based chili — my recipe below won't disappoint. I might add that it's much lower in calories than traditional chili cheese fry dishes because it's made without meat and is substituted with much healthier ingredients.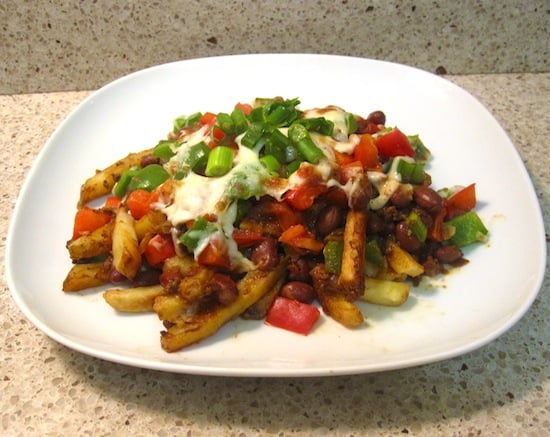 Here's the full recipe!
Vegetarian Chili Cheese Fries
Original recipe
Directions
Preheat oven to 375 degrees Fahrenheit.
Cut your potatoes (or vegetable of your choice) into fry-like slices.
Cover a baking sheet with aluminum foil.
Sprinkle your olive oil over the baking sheet.
Spread out your fries on the olive oil (toss to make sure the oil is evenly distributed).
Pour the can of vegetarian chili in a bowl and mix in your chili powder, salt, and pepper. Pour over the fries on the tray.
Allow potatoes to bake for 35 minutes until brown (toss at the 15 minute mark).
Cover with your chili mix and bake for another 10 minutes.
Pull out the tray and add the tomatoes, onions, and peppers.
Sprinkle with your grated cheese and put back in the oven for 5 minutes until the cheese melts.
Enjoy!
Information
Category

Main Dishes