How to Make Healthy Gluten Free Pizza
Make It: Healthy Gluten Free Pizza
There's nothing quite like a few slices of delicious cheesy pizza to ring in the weekend. But because I'm unable to eat food products that contain gluten, pizza night usually consists of me making my own mini pizzas at home rather than hanging out at the local pizzeria. What's great about making your own pizzas is that you can add all of your favorite toppings and decide how healthy/unhealthy you want your pizza to be.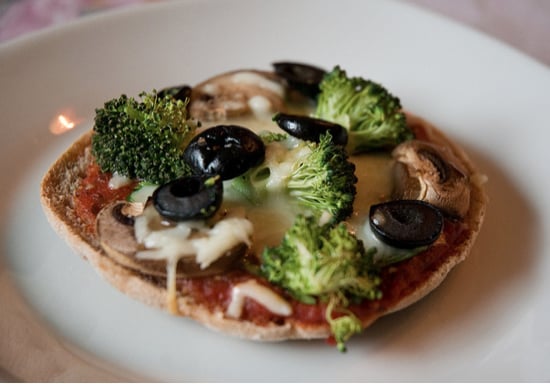 To build my own tasty masterpiece, I use whole grain gluten free bread or gluten free pizza crust. And to prevent any food hangovers the next day, I strive to make my mini pizzas somewhat healthy and nutritious just like my healthy nachos recipe. Because do we really want to scarf down 710 calories thanks to one tiny six-inch pizza? I think not!
Keep reading to check out my favorite healthy pizza recipe.
To get your creative cooking juices flowing, have a peek at these heart-healthy pizza topping options and start building your colorful dream pizza in your head. Next up — gathering ingredients and getting the slicing and dicing started! Here's how I make my healthy dream pizza.
Healthier Pizza
original recipe
Ingredients
4 slices of gluten free bread (or 2 gluten free pizza crusts, or 4 slices of organic whole wheat pita bread)
13 oz of tomato sauce (I use half a jar of organic pasta sauce)
1 cup of partly-skimmed mozzarella cheese
1 cup of diced tomatoes
1 cup of diced red and green peppers
1/2 cup of diced mushrooms
1 cup of fresh spinach leaves
1/2 cup of chopped red onions
1/2 cup of jalapeños for some additional kick (optional)
3 tablespoons of extra virgin olive oil
1 teaspoon of salt
2 teaspoons of pepper
Optional additional toppings include: broccoli, artichokes, olives, eggplant, and basil
Directions
Serving size: 1-2 people
Preheat oven to 375 degrees F.
Chop and dice all of the listed vegetables.
Put the diced tomatoes in a separate bowl and add your olive oil and salt and pepper. Mix well and let the olive oil marinate into the tomatoes.
Place your bread or pizza crusts on a cookie sheet and put into the oven. Let bread bake for 5-10 minutes, flipping the bread after the five-minute mark. This helps to make it crispy.
Pull out our bread from the oven and cover each slice with tomato sauce.
Add your cheese and then proceed with the toppings including peppers, the marinated tomatoes, mushrooms, onions, spinach leaves and jalapeños.
Put cookie sheet back in oven and bake for 20 minutes.
Allow pizzas to cool for 5 minutes before enjoying.
Information
Category

Main Dishes

Cuisine

North American
Source: Flickr User hlkljgk