How to Make Healthy Mexican Food
Three Amigos: 3 Simple Switches to Lighten Up Mexican Fare
Between all that spice, comfort, and bright flavor, Mexican food always manages to tempt our taste buds for a delicious feast. The only downside? The recipes we typically associate with readily available Mexican grub in the US are not always the healthiest options for someone who's trying to cut back on extra calories. If you've been missing the tasty flavors of your Mexican favorites, then have no fear. I've called upon three amigos (three wildly simple switches) to make your favorite Mexican recipes healthier at home.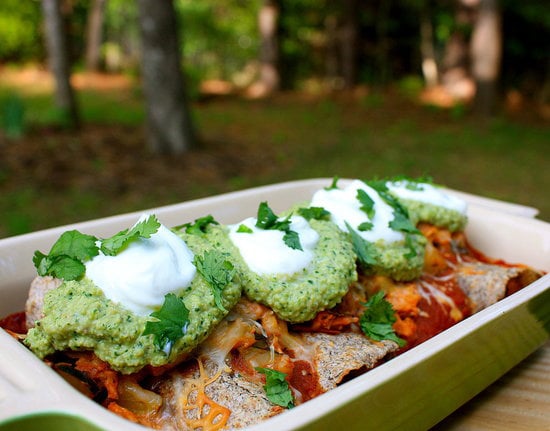 1. Reach for lighter (and less) dairy: All that delicious cheesy goodness is part of what makes Mexican classics so comforting. So, no need to say goodbye to it altogether! Instead of full-fat cheeses, pull for part-skim cheese options for an easy fix that won't skimp on flavor or texture. I also love the idea of using greek yogurt instead of sour cream to cut back on unnecessary fat. I've made a huge plate of these healthy enchiladas and subbed greek yogurt for the sour cream without anyone noticing!
2. Grab whole-wheat options: We all know that refined carbs are just bad news, but don't let them creep their way into your kitchen with your chips or traditional flour tortillas. Luckily this is a wildly easy fix. Just choose whole wheat instead!
Keep reading for one more trick to make Mexican food healthier.
3. Make your own seasoning: Prepackaged seasonings may save you a few minutes, but they are loaded with preservatives and extra salt. Instead of loading up on something that will leave you bloated, make your own seasoning at home. This healthy Mexican chicken stew says sayonara to extra sodium and salt by welcoming the bold, natural flavors of lime juice, chili peppers, and cumin to cut back on calories without losing any spice.