How to Make Healthy Nachos
Make It: Healthier Nachos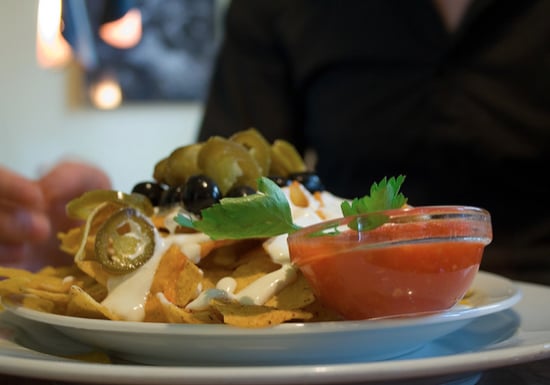 Oh nachos, why do you have to be so delicious? I really do love a good plate of nachos — especially when they come loaded with all the good stuff like cheese, guacamole, sour cream, salsa, and jalapeños. Not exactly the healthiest guilty pleasure, but they sure are tasty. With Spring right around the corner, I'm trying to get my body back to pre-Winter shape by amping up my workouts and cutting back on my junk food favorites.
Rather than kiss nachos goodbye for the next four months, I've decided to tweak my recipe by cutting out the fat and calories and adding in some wholesome goodness.
Keep reading to see what I've come up with for my new and improved nacho dish.
You may recall FitSugar reader JuicyNoelle's healthy surfer-style nacho recipe that incorporates lettuce and black beans into the dish.
And here are some of my tweaks that will help convert my not-so-heart-healthy nachos to a delicious, low-cal treat.
Healthier Nachos
original recipe
Ingredients
1/2 bag of low-fat corn tortilla chips
1 cup of chopped red and green peppers
1 cup of diced tomatoes
1 avocado, mashed
1/2 cup of jalapeños
1/4 cup of low-fat sour cream
1/4 cup of low-fat/fat-free Mexican cheese blend (colby, cheddar, monterey jack)
Directions
Preheat oven to 400 degrees F.
Place the tortilla chips on a cookie sheet.
Cover the chips with the red and green peppers, tomatoes, and jalapeños. Bake for 20 minutes.
Remove tray from oven and sprinkle cheese on top. Pop back in the oven for five or so minutes until the cheese melts.
Remove nachos from the oven and add avocado and sour cream. Place back in the oven for a minute or two if you want to slightly warm up your sour cream and avocado.
Source: Flickr User @boetter
Information
Category

Main Dishes

Cuisine

North American
Enjoy!
Source: Flickr User @boetter