How to Make Healthy Trail Mix
4 Additions For the Perfect Trail Mix
A good trail mix can be the perfect snack; no matter what you're craving, whether it's salty or sweet, a few handfuls can keep you satisfied and full. But there's a right way and a wrong way to make trail mix if you want it to be good for your body. Here are four additions to make your trail mix tasty and healthy.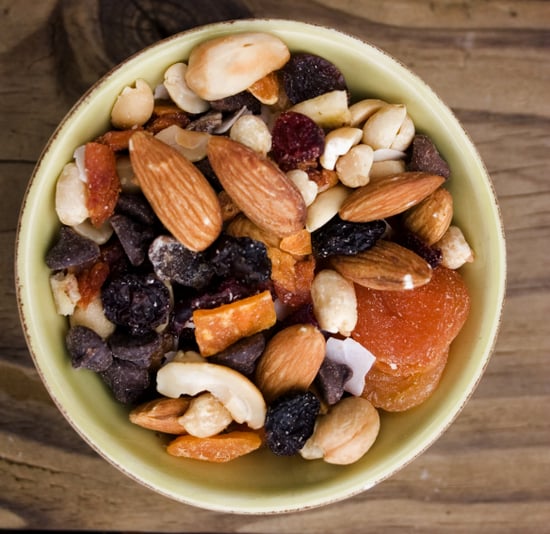 Chocolate: Eat chocolate — lose weight? That's what some people are saying, now that a new study found that people who eat chocolate regularly (at least twice a week) tend to weigh less than people who don't indulge on a regular basis. It may be because polyphenols in chocolate increase metabolism, or it may just be that people who eat small amounts of chocolate regularly curb cravings so they don't indulge in an unhealthier dessert. Either way, we already know that dark chocolate has other heart-healthy benefits, so add a few pieces to your trail mix if you're craving something sweet.
Superfruit: Add a dash of antioxidants by including dried superfruits in your trail mix. Dried fruit packs a punch when it comes to disease-fighting compounds. Goldenberries, for example, are a good dose of vitamin A, which is crucial for healthy eyes, skin, and teeth and may help improve organ function. Dried goji berries or cranberries are another good option for their health benefits, which include better immune and urinary system functioning and disease-fighting. Make sure to look for varieties containing no added sugar.
Read on for more healthy trail mix additions.
Popcorn: You can never have enough antioxidants, right? Your favorite movie-theater snack got a healthy stamp of approval this week when a study confirmed that the center of a piece of popcorn holds more antioxidants than fruits and vegetables. But there's a right way and a wrong way to enjoy popcorn, since a bag at the movies can be as much as 1,200 calories. Instead, add a few fresh popped kernels, sans butter and oil, in your next batch of trail mix. Try this popcorn trail mix recipe for ideas.
Spices: Spices are an easy way to add flavor without the calories and will cut down on the amount of salt you need in your trail mix as well. Turmeric, cayenne pepper, nutmeg, and cinnamon all have impressive health benefits, so try one of these spices to add a kick to your trail mix.