How to Make Latkes
Curried Sweet Potato Latkes With Homemade Apple Pear Sauce
Whether you're celebrating Hanukkah tonight or not, potato latkes (also called potato pancakes) make a delicious meal. I've cooked up the standard potato latkes made with russet potatoes, ones with shredded carrots added, sweet potato and carrot latkes, and also ones made with zucchini from my garden.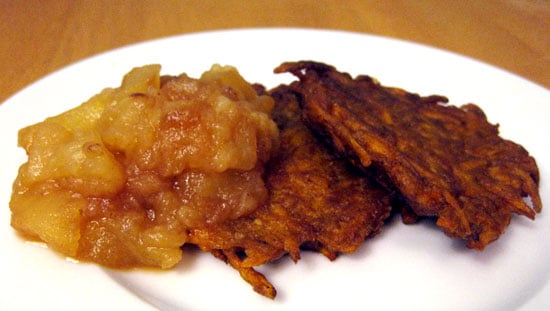 This year I am spicing things up a bit, and if you're ready to try a savory latke with a taste of India, give this recipe a try. They're made strictly with sweet potatoes, so they're naturally sweet and full of vitamin A. I whipped up some chunky homemade apple and pear sauce to enjoy with them, and I'll definitely be making these again. If you've never made latkes before, check out these tips from YumSugar, on how to make perfect latkes.
To see this recipe, continue reading.
Curried Sweet Potato Latkes With Homemade Apple Pear Sauce
Modified from a Taste of Home recipe
Ingredients
For latkes:
4 cups shredded sweet potatoes, peeled and grated (about one large)
1/4 cup whole wheat flour
1 teaspoon brown sugar
1 teaspoon baking powder
2 teaspoons curry powder
1 teaspoon ground cumin
3/4 teaspoon salt
1/2 teaspoon cayenne pepper
1/4 teaspoon black pepper
2 eggs, lightly beaten
1/2 cup milk or soy milk
Canola oil for cooking
For sauce:
4 apples, peeled, cored, and diced
4 pears, peeled, cored, and diced
1 cup water
One teaspoon cinnamon
Directions
For shredding the sweet potatoes, I recommend using a food processor to save time.

Prepare the skillet by pouring just enough oil in the bottom to coat it. Place the pan on medium heat. Heating the oil ahead of time prevents soggy latkes.
Place the apples, pears, and water in a pot. Cover and simmer on low heat, stirring often.
In a small bowl, combine the flour, brown sugar, baking powder, and spices. Stir in eggs and milk until blended. Add sweet potatoes and toss to coat.

Drop batter by heaping tablespoonfuls onto the heated pan. Press lightly to flatten. Cook for three to five minutes on each side or until golden brown, adding oil as needed. Drain on paper towels. You should be able to make about 18 (three-inch in diameter) latkes.
Once the apples and pears are soft and sauce-like, about 15 to 20 minutes, remove from heat and stir in cinnamon. Serve latkes and fruit sauce while hot.
Information
Category

Side Dishes, Potato

Cuisine

Jewish
| | | |
| --- | --- | --- |
| Serving Size | 2 latkes | 1/4 cup fruit sauce |
| Calories | 241 | 18 |
| Saturated Fat | 2 g | 0 g |
| Cholesterol | 36 mg | 0 g |
| Sodium | 218 mg | 0 mg |
| Carbs | 14 g | 4.8 g |
| Fiber | 1 g | .8 g |
| Protein | 3 g | 0 g |
If you have any healthy holiday recipes to share, post them in the Healthy Recipe Group.