How to Make Pizza Healthier
6 Ways to a Healthier Slice of Pizza
When you need a quick meal, pizza is always a crowd pleaser, but unfortunately it's not the most nutritious food on the planet. The next time you order from your local pizzeria or pull out your rolling pin to make your own, try these healthy tips.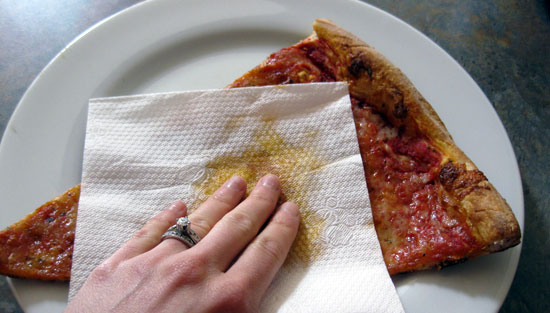 Whip up your own whole wheat dough and mix in flaxseeds for added fiber and omega-3s. If you don't have time, look for frozen whole wheat dough at the grocery store you can roll out and add your own flax to the dough.
If you have a frozen pizza in your freezer, top your pie with sliced fresh or roasted veggies like tomatoes, peppers, and mushrooms before popping it in the oven.
Go cheese-less. Whether ordering out or making your own, hold the cheese and add flavor with veggies instead. Or if you can't live without the stretchy, melty goodness, sprinkle Daiya Mozzarella Style Cheese on top for a cholesterol-free option.
If you're ordering a pie from your fave pizza joint, always go for thin crust and top with at least three veggie toppings for added fiber.
Instead of pepperoni or sausage, sprinkle on some meat-free nibbles such as Smart Sausage, smokey tempeh strips (Fakin' Bacon), or cubes of marinated tofu.
Blot the top of your slice with a napkin to soak up extra pooling grease.
How do you healthify your fave slice? If you have any other ideas, share them below.