How to Make Protein Powder Smoothies Taste Good
From Chalky to Appetizing: Making a Good Powdered Smoothie
Powder-based smoothies are so convenient: add water, shake, and you're done. The problem is that these types of smoothies leave a lot to be desired in terms of taste — they're often chalky, tasteless, or, at worst, off-putting to the palate. To make these nutrient-rich smoothie powders more appetizing, try adding one — or a few! — of these mix-ins to your next smoothie.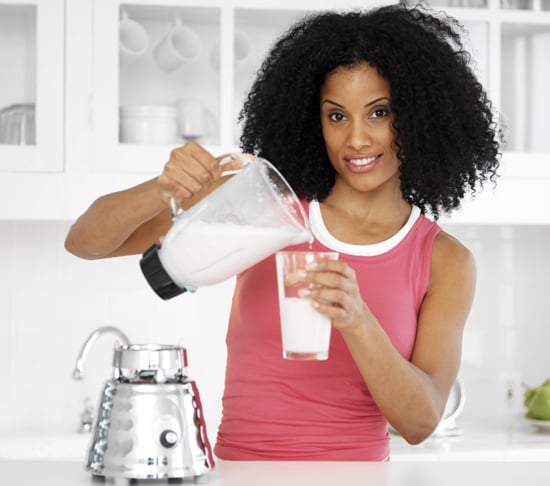 Fruit: Fresh or frozen fruit is a great way to brighten the flavor profile — and nutrient makeup — of a smoothie. This couldn't be more true of smoothies made from green powders; they may be phytonutrient-rich, but they often lack sweetness, which is something a healthy dose of mango, apple, or berries can help solve.
Nut butters: Nut butters help add fat and protein to powder-based smoothies, and in addition to adding flavor, nut butters make a good thickening agent. Suddenly a thin and runny smoothie is thick, rich, and creamy!
Milk: Whether you choose dairy or non-dairy, milk and all its varieties are good mix-ins for smoothies made from protein powders. Add a creamy dose of calcium and protein by using milk in place of water when mixing your next smoothie. Milk also helps to lessen the chalky taste that is common in powder smoothies.
See more smoothie mix-in ideas after the break!
Yogurt: Opt for some plain yogurt when you want to give a silkier, even texture to a smoothie. Greek yogurt is great since it's packed with protein, which will help you power through the day.
Coconut water: Up your daily serving of essential nutrients like potassium and magnesium by shaking your smoothie up with coconut water. Fruit-flavored coconut waters will add an extra oomph of flavor, but the real winner has got to be Zico's chocolate coconut water. When mixed with a protein powder, you swear you're drinking a chocolate milkshake.
Cocoa powder or spices: When you want to add flavor or sweetness to a smoothie, but aren't big on calories, go for a hint of cinnamon, nutmeg, or cocoa powder. Just add a teaspoon of your desired spice into the mix before blending.