How to Make Quinoa Healthier: Add These Foods
Pump Up the Nutrition of Quinoa: Add These Foods
Bursting with protein — eight grams for one cup of cooked — quinoa is a super grain. High in folate and magnesium, this fluffy, easily digested grain also provides five grams in one cup.
Just like mildly flavored tofu, quinoa absorbs the flavors around it, so it pairs well with just about anything. Although super healthy on its own, here are some ways you can up the nutritional value while adding interesting flavor and texture.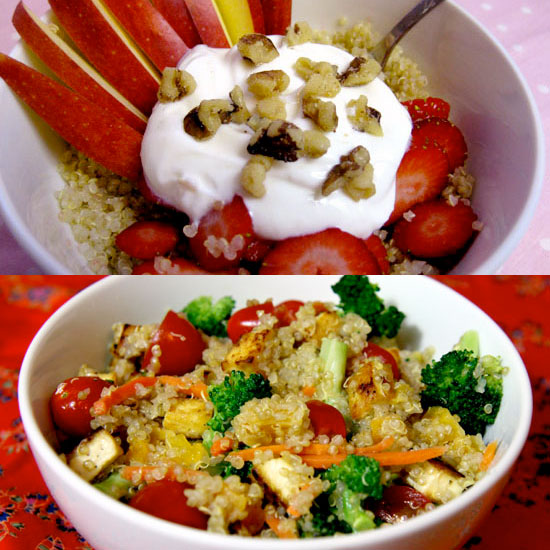 Before cooking, mix dry quinoa with another grain such as millet, barley, or Arborio rice. The result is a very different taste and texture, plus you get the added nutritional goodness of the other whole grain.
Cook quinoa with miso to add a bit of extra protein and a burst of essential B12. Just mix miso paste into the cooking water before adding uncooked grain.
If you love quinoa, keep reading for others ways to make it even healthier.
Cook quinoa with shredded carrots. After the water and dry grain have come to a boil, reduce it to simmer and cook for another 10 minutes. In the last five or 10 minutes, stir in some shredded carrots for added fiber and vitamin A. Diced sweet potato is another delicious option.
After your quinoa has finished cooking, turn off the heat and stir in some dried fruits like chopped apricots or dried cranberries. Six chopped dried apricots increase the amount of potassium by 420 mg while also adding three grams of fiber. Top with Greek yogurt and a little drizzle of maple syrup and you've got yourself a super high-protein breakfast.
Add chopped nuts like raw slivered almonds after the cooked quinoa has cooled. A quarter cup adds 5.7 grams of protein and 67 mg of calcium.
Make quinoa even more protein- and fiber-packed by mixing it with beans. After cooking one cup of dried quinoa, I like to mix in one 15-ounce can of kidney beans. It's a twist on the basic but oh-so-satisfying rice and beans dish.
Add some fresh veggies to cooked quinoa. Chopped broccoli, cut corn from one ear, or fresh peas go great with the slightly nutty flavor of quinoa. These veggies will increase the fiber content so you'll feel full quicker with not a lot of calories.
Top a few spoonfuls of cold cooked quinoa on a regular green salad. The quinoa adds protein, fiber, and carbs so your healthy but skimpy salad is more satisfying and keeps you feeling full longer. Plus the salad adds fiber, calcium, iron, and other essential vitamins and minerals.