How to Make a Salad Japanese
Make a Japanese-Inspired Salad, Live Longer in the Process
Japanese woman live to be almost 90 years old, which is a record high the world over. And while a lot of factors contribute to a long life, diet is certainly one of them. A bowl of udon or a plate of sushi might not appeal to you every night, but there are a few simple ways to tweak your salad using elements of this heart-healthy cuisine.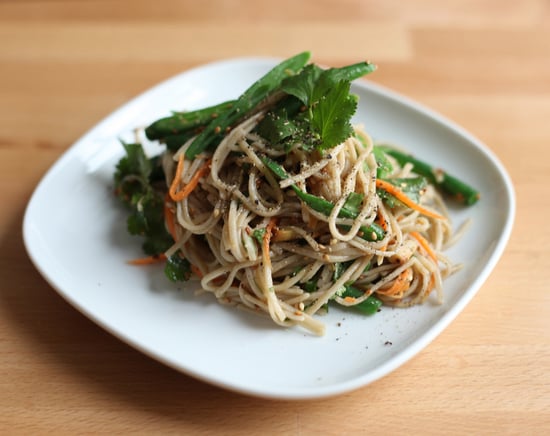 Soba noodles
In Japan, soba noodles are served either hot or cold, on their own or in light broth. Not just for soups, they're also a tasty addition to any salad — and a healthy one too. Made from buckwheat flour, soba noodles are full of fiber, protein, iron, and amino acids. And those living with celiac disease should know that 100 percent buckwheat soba noodles are gluten-free. I'm a fan of adding soba noodles to a salad of mixed greens, mango, edamame, red pepper, and cucumber. Toss lightly with a miso or sesame dressing for a satisfying lunch!
Seafood
When it comes to a protein staple, fish rules the day in Japan. What you won't find on a day-to-day basis is an overabundance of beef or dairy. The diet is rich in variety, from common varieties like salmon and tuna to the more exotic uni. Seafood is an easy way to give salad the protein boost that is often missing; it also adds omega-3s, iron, and calcium. Try some seared tuna on your next salad creation.
See more ways to make your salad Japanese after the break!
Soy
Soy sauce, edamame, tofu, and miso are a few ways the Japanese diet embraces soy. And while soy isn't without controversy, research shows it to be a heart-healthy, cholesterol-free alternative to meat. Soy is also full of amino acids and fiber. Make this simple recipe for ginger-tamari tofu and be sure to use it in salads throughout the week.
Vegetables and Seaweed
No Japanese meal is complete without a dazzling array of simply prepared veggies or a nice helping of seaweed. Add antioxidants, vitamins, and minerals to your salad by using veggies prevalent in Japanese cuisine and rich in nutrients: cruciferous varieties, mushrooms, sweet potato, and radish. Keep dried nori on hand to add a savory crunch to any salad.
Source: Flickr user Mr Michael Phams