How to Make Spice Mixes
Make Your Own Spice Mixes (and Cut Back on Salt)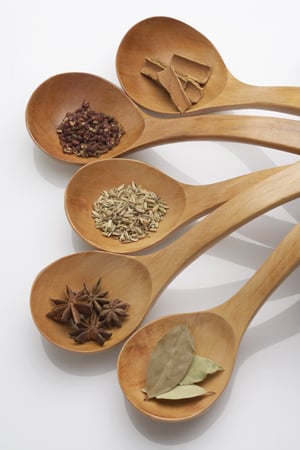 It must be DIY week at FitSugar. First we suggested that you make your own trail mix, and today we're onto spice mixes. Heck, by the end of the week, you'll be able to use your homemade spice mix on that trail mix you just made — win! In all seriousness, keeping food items homemade means that you'll have more control in the kitchen and can keep it healthy. And making spice mixes is a great way to add flavor to your dishes without the need for salt. Since overdoing it on salt is a huge problem, finding ways to cut back is important.
When thinking about what mixes to make for your home, think about your eating styles. The three basics I always have on hand are an Italian herbs mix, a curry spice mix, and a Mexican seasoning blend. Between these blends, I can season meat, pastas, and even snacks. To make my mixes, I sort wing it with a little bit of cheating. I look at already-made spice mixtures in the supermarket and re-create them in my kitchen. But if you are looking for something a little more exact, CHOW has a great list of spice blends that you can make at home.
If making spice mixes isn't your thing, don't worry. But do consider buying a few blends to keep in your kitchen, which you can use to season foods instead of salt.