How to Make Tart Frozen Yogurt
Homemade Tart Frozen Yogurt With Raspberries and Dark Chocolate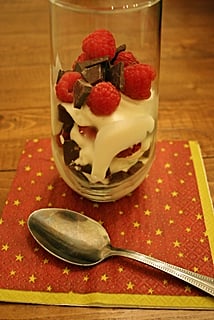 During Summer months, you might find yourself splurging on $5 froyo almost every day to keep cool. That's an expensive habit, especially when it's so simple and inexpensive to make homemade frozen yogurt. Additionally, you might not be aware of the additives and mysterious ingredients within the store-bought stuff that you are consuming. Instead, dig into our FitSugar original tart frozen yogurt recipe.
Homemade Tart Frozen Yogurt
Original Recipe
Ingredients
1 32-ounce container plain yogurt (nonfat, 2%, or whole)
1/2 cup sugar (preferably organic, like Florida Crystals)
Equipment
Ice cream maker (prefreeze bowl, if applicable)
Mesh strainer
Directions
Line mesh strainer with several layers of cheesecloth or paper towels. Hook strainer over a medium-sized bowl, and pour yogurt into strainer. Let sit in refrigerator overnight or for 12 hours.
Store the liquid in the fridge in an airtight container (it's the nutritious whey protein). Carefully scoop out strained yogurt into a clean bowl, and stir in sugar until dissolved.
Pour yogurt mixture into ice cream machine, and churn according to manufacturer's instructions.
Serve with your favorite yogurt toppings including fresh fruit, nuts, granola, and dark chocolate.
Serves 4
Information
Category

Desserts, Ice cream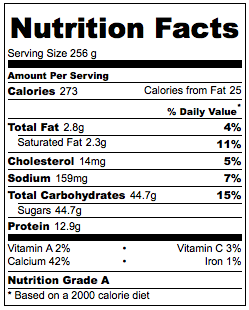 Nutritional Source: Calorie Count