How to Make Workouts Go by Faster
Workouts Dragging? 4 Tricks to Make the Time Fly
Even when you have the best intentions of committing to a workout, distractions pop up and deter you from your goals. If you're always trying to sneak out of the gym as soon as you arrive, then try mixing up your workout routine with one of these tricks that will keep you motivated and entertained from start to finish.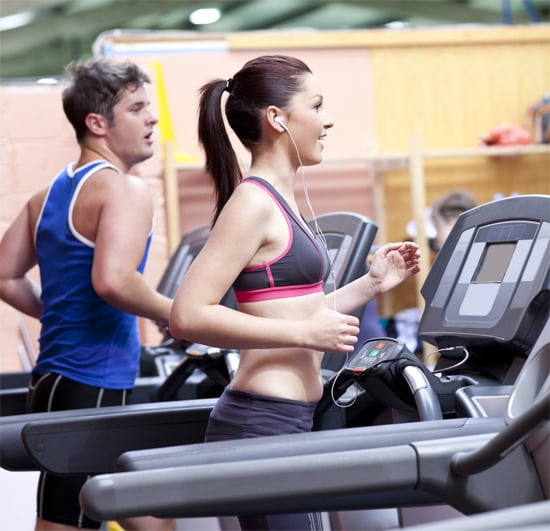 Save your shows: While a good old-fashioned TV binge is something we typically don't condone, it can be beneficial when it comes to working out. Knowing that you can't watch that hour — or two! — of your favorite guilty pleasure until you're at the gym will entice you to stick to your workout and finish strong. Bonus: when your mind is consumed by a show or movie, you won't be as focused on time or how far you have to go until your shows are done.
Keep setting goals: Instead of just focusing on one big goal, make minigoals the whole way through. Whether it's reaching a certain number of calories before the 10-minute mark, beating your time from earlier in the week, or running at a strong and steady pace without taking a break, constantly setting minigoals will keep your head in the game and focused on the task at hand.
Keep reading for two more tricks.
Try intervals: Not only does alternating between periods of pushing your body to the max with recovery periods help blast away belly fat and support weight-loss goals, it makes your workout more exciting and fast-paced. As you're constantly switching up the resistance, incline, and speed, there's little time to think about anything else.
Listen to new music: Nothing refreshes a boring workout like some upbeat tunes that inspire you to move. Luckily, you don't have to spend hours finding all the new music that will suit your healthy habits, since we've compiled tons of workout playlists to help you out. If you're having a hard time getting to the gym, look forward to the new tunes you'll be able to check once you're at your workout.