How to Make Your Afternoon Snack Healthy
How to Keep Your Afternoon Break Healthy
Lunch is a distant memory, and your energy level, mood, and grumbling stomach could use a little snack. Here's how to keep that afternoon snack healthy so you don't undo any of your prenoon good work.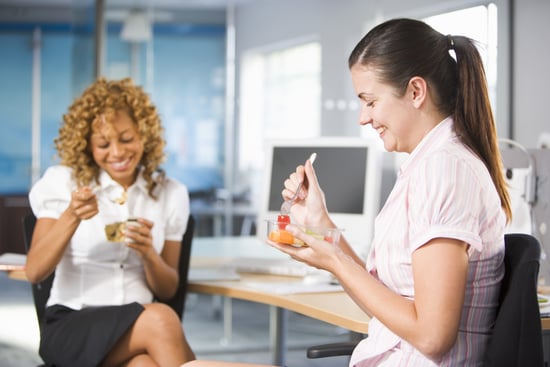 Keep stocked: It's important to take breaks throughout the day to burn a few extra calories and keep your mind sharp, and ducking out of the office for a midday coffee run can be the perfect excuse. If you're in the mood for a snack and don't have any healthy options, however, that latte break can turn into a date with the pastry case. Keep your desk stocked with healthy snacks like fruit, dark chocolate, nuts, or energy bars to satisfy any cravings before you cave at the coffee shop.
Set limits: That's not to say that you should always choose that apple at your desk over a fun fro-yo run. Allowing yourself a small treat can help you stay on track if you're trying to lose weight, but make sure you set weekly limits so you don't go from "I'll just have one cookie" to a daily 300-calorie habit. If you only allow yourself an indulgent treat once a week, for example, you'll be less likely to turn your "cheat" into a habit.
Revamp your lunch: You ate lunch at noon and are already starving — and it's only 1:30. Blame it on the salad you made for lunch. While loading up your salad with high-calorie toppings can be diet sabotage, making sure that you're healthy lunch contains a balance of proteins and carbs, as well as adequate fiber, ensures that you won't hungrily reach for the office candy jar once the afternoon rolls around. Add some protein-packed quinoa to your salads, like with this Mediterranean quinoa salad recipe, or if you're looking for filling salads that don't contain meat, check out these recipes for vegetarian salads that are high in protein.