How to Make Your Desk Healthier
25 Easy Tips to Make Your Desk Healthier
Making a few simple switches to your office routine can help you feel healthier all day long. Feeling tired, sluggish, and stuck no longer has to be the status quo. These 25 helpful tips will change your relationship with your desk.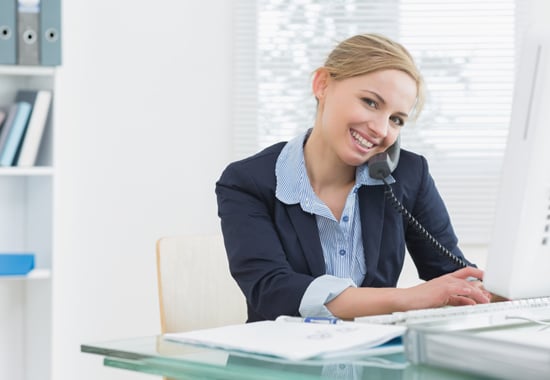 Keep water close: Staying hydrated will keep you in tip-top condition. Refill your bottle when you get up from your desk, or set an alarm to remind yourself to sip.
Have snacks handy: Forget runs to the vending machine for junk or soda that will make you crash. Keep a drawer stocked with some healthy, satisfying snacks.
Clean your keyboard: Keyboards are laden with germs, but it's simple to clean your desktop keyboard with just a few steps and products.
Pack your lunch: Bringing a healthy brown-bag lunch from home can help you keep close tabs on the ingredients in your food. It will also be easier to make sure you're getting all your essential nutrients.
Take a stretch break: Sitting for hours upon end can leave muscles feeling stiff and sore. These four desk stretches will give your body a little love.
Don't OD on caffeine: A quick cup of coffee can boost energy, but don't overload. Headaches, upset stomachs, and nervous feelings can all come from too much caffeine. Green tea is always a great option for the afternoon slump.
Get outside when you can: Being productive at your desk is important, but just a little fresh air and sunshine can do wonders for your mood and energy. Take your breaks outside when possible.
Connect with co-workers: Fulfilling all your work obligations is obviously essential, but taking time to chat with coworkers for a few minutes helps you de-stress and unwind before getting back to business.
Buy a plant: Beyond connecting us to the natural world and making employees happier, plants can help improve air quality in your office.
Have tissues close: No more sleeves or searching for an old napkin after a sneeze attack. Seeing a box of tissues will also remind you to wipe down regularly.
Personalize your space: You live a huge part of your life at your desk, so make it feel like home. Bring in some fresh flowers and photos for a little face-lift.
Keep spare gym gear: Forget rushing home and stressing out before an impromptu workout session. Always have a change of gym clothes in your drawer for when plans switch — or the mood strikes.
Make lunch light: Pizza or burgers might sound delicious at first, but you'll feel them later. Keeping your food choices light and healthy with energy-sustaining carbs and lean protein will help you avoid the dreaded afternoon slump.
Sit ergonomically: Does your eye level hit the first third off your computer? Do you feel your muscles cramping? Give your desk an ergonomic evaluation, and adjust accordingly for a more comfortable work experience.
Stretch your wrists: Typing all day can be tough on forearms and wrists. These quick strengthening moves will help keep wrists healthy and strong.
Stay home when sick: Work from home if you're feeling up to it, or simply take a sick day. The best way to fight early flu symptoms is to rest.
Adjust the light: Poor overhead lighting or a too-bright screen can be tough on your eyes. Depending on your needs, play around with dimness or import a lamp depending on your needs.
Sit on an exercise ball: Swapping out your chair for an exercise ball can help build up a strong core while improving posture.
Take breathing breaks: Whenever you're overwhelmed, shut your eyes and breathe in through your nose and out through your mouth. You'll feel instant relief.
Organize every day: Tossing out garbage and putting papers in their proper home every night before you head home will help you start your the next morning feeling calm and collected.
Choose treats carefully: Birthday celebrations and holidays can bring in a slew of sweets and treats to the office. Make wise choices now to avoid an unpleasant sugar crash later.
Add a pillow: Dealing with lower back pain at your desk? Purchase a small firm pillow for the back of your seat. This little addition will take the edge off the pain.
Import motivation: An inspiring quote or visual can do wonders for your mood. One of these motivational prints might just find a home at your desk.
Keep sanitizer on hand: Leave a bottle of hand sanitizer ready to go at your desk. After you sneeze or need a little refresh, go for a pump without getting up.
Relax your jaw: Clench your jaw when you're focused or nervous? Take a quick break every few hours to open your mouth, drop your chin to your chest, and release that pent-up tension.