How to Make Your Own Carbonated Beverage
Ditch Soda and Make Your Own Carbonated Beverage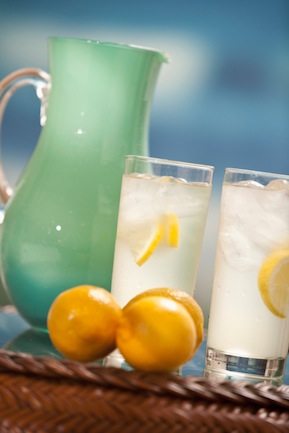 Now that we're in the trust tree, let me be completely honest with you about something — soda is downright dangerous to drink. Aside from the health risks including bone loss, hypertension, and dental decay, soda drinks like Coke are full of sugar, caramel coloring, high-fructose corn syrup and often leave you thirstier — not exactly the crème de la crème of beverages.
Contrary to popular belief, not all carbonated drinks are bad for you — sparking water is sugar free and can keep calcium locked in your bones (no studies have backed up the preconceived notion that sparkling water actually leaches calcium out of your bones).
For those of you that like that thirst-quenching appeal that carbonated beverages provide, you may be able to slowly wean yourself off soda once-and-for-all with one of these delicious and easy carbonated drink alternatives.
Fizzy Lemonade: Squeeze about three to four large lemons in a large pitcher. Pour in six cups of soda water and stir until all of the lemon is mixed in the water. Add four to five tablespoons of agave nectar for sweetness. Refrigerate for about an hour and then add in 2-3 cups of ice cubes. Garnish with some lemon slices.
Here are some more DIY carbonated drink options.
Make Your Own Flavored Water: To liven up soda water, add a hint of flavored syrup, juice, or fresh fruit. Try adding in some freshly cut cucumbers, or herbs like mint, or even some sliced limes or oranges for some extra zing.
Make Homemade Soda With the SodaStream: The SodaStream ($100) is a fountain jet home soda maker that includes two carbonating bottles and includes an assortment of soda flavors — all of which are low in calories and free of artificial flavors and high-fructose corn syrup. All you do is fill one of the carbonating bottles with water, screw it into the main stand, press the button to create fizz, and voilà! Your very own healthy soda.