How to Make Your Own Herbal Tea
How to Make Your Own Quick and Easy Herbal Tea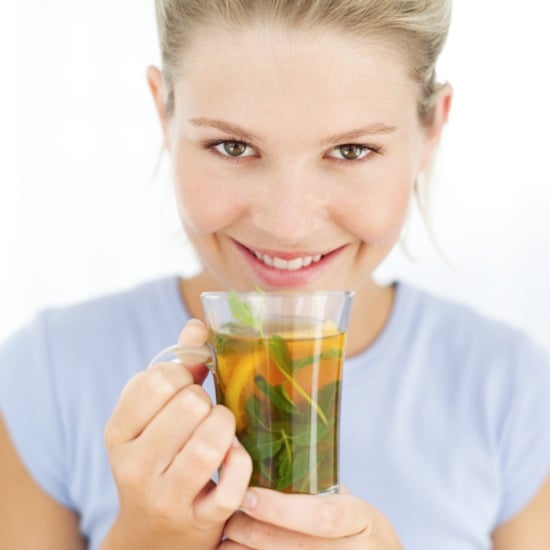 I find that people are either devout coffee drinkers or dedicated tea aficionados. I myself fall into the tea category, as my pantry is overflowing with various flavors of tea. But now that Spring has arrived, I'm inspired to make my own home-brewed tea with fresh herbs and test out different combinations. Below, you'll find my top three favorite homemade herbal teas, but other yummy herbs like basil, chamomile flowers, rosemary, thyme, verbena, and sage are edible as well, so feel free to experiment with them too!
Peppermint tea: Take four to five washed mint leaves (use six to eight if you're making a pot), put in a cup of boiling hot water, and cover with either a mug cover or tiny plate to allow the mint leaves to infuse the water. Let the tea stand for about five to 10 minutes before drinking. You can either remove the leaves with a spoon or enjoy the tea with the leaves in the cup. Add a bit of honey or agave nectar for sweetness.
Ginger tea: Take a one-inch piece of peeled, thinly sliced fresh ginger. Put in a tea pot and pour in boiling water (enough to fill the pot until it's almost full). Let the tea steep for about 15 minutes. Add a teaspoon of honey to your tea cup and pour in the ginger tea.
Parsley tea: Parsley offers a plethora of health benefits, which is why I love making parsley tea. If you have parsley growing in your garden — even better! If not, buy a tiny batch from the grocery store and rinse it well when you get home. Fill the bottom of your tea cup with parsley leaves. Boil two cups of water and pour over the parsley. Similar to the peppermint tea, cover the cup with a plate to allow the parsley to infuse the water. If the water isn't green when you take the plate off, then it needs to steep longer. Sip your parsley tea and enjoy!